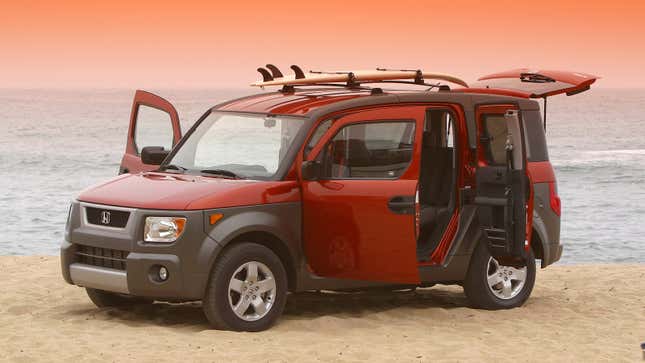 Honda's current vehicle lineup is pretty good. The Accord looks better than it has in years, the Civic is amazing, and both the Odyssey and Ridgeline are perennially great (despite the death of the HondaVac in the former). Where things could use some help is in its SUV lineup.
The CR-V is just OK, the HR-V is weird looking, the Pilot is meh and the Passport is merely fine. What Honda needs is something that goes into its portfolio right in between its cars, which are awesome, and its SUVs, which are merely adequate. It needs a new Element.
The Honda Element debuted 20 years ago and was in production for eight years. It sold around 325,000 units total, which isn't nothing, but in Honda terms, that's not so good, Al. Comparatively, the Civic sold approximately 263,000 examples in 2021 alone. I'd argue that the slow (relatively) sales were due to the Element being ahead of its time and not because it was a bad car.
The Element had a lot going for it. First, it was powered by arguably the best four-cylinder engine ever conceived of by humankind – the Honda K-series. Next, it could be had with either front-wheel drive or all-wheel drive, which makes sense given that Honda marketed it towards active young people. The Element's real trick, though, is its interior.
Let's get this out of the way early: you can't hose out the Element. It sounds cool, but it's a bad idea. Aside from that, the Element offered a rugged interior with a huge degree of configurability and an almost shocking amount of space, given the car's relatively small exterior footprint. That makes sense since it's effectively a box, but it's hard to find cars with this kind of space now.
Hell, even Jonny Smith from The Late Brake Show bought a JDM one, and he's a smart guy. Plus, they didn't even sell the Element in the UK (I didn't know they sold it outside of America at all, given that it was designed and built here). Let him tell you why the Element is so awesome while the rest of us who know continue to manifest Honda bringing it back.