So the new thing in muscle cars appears to be air intakes where you least expect them. Earlier this year, Chevy showed us the "flowtie" they stuck to the Camaro Z/28. Dodge has arguably gone one step further in fooling us with an intake that looks like a light. That's intake one-upmanship.
And being a Challenger, all of you know it won't be subtle about winning.
COME AT ME FLOWTIE DO YOU EVEN LAMINAR FLOW
Needs text when it stops. "Deal with it."
Credit to Hermann - Fantasy WRC Champion who fulfilled wishes.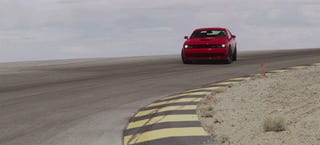 Now what can Ford do with a Mustang logo?