Did you know that Larry Page, one of the founders of Google, started a highly secretive flying car company? Actually, that's not exactly right. That cash-gorged bastard started two flying car companies. Now it looks like one of the prototype flying things has finally been seen in the wild.
The flying car company we're interested in today is called Zee.Aero, which maintains a hangar at Hollister Airport. Nearby the airport tarmac is a company called DK Turbines, where Steve Eggleston works, and from where Eggleston snapped this photo of what seems to be a working prototype of the Zee.Aero flying car:
The aircraft was seen hovering by witnesses, and Eggleston noted the sound of its engines:
"It sounded like an electric motor running, just a high-pitched whine."
G/O Media may get a commission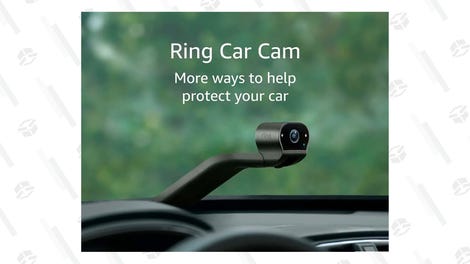 While I'm not exactly sure why that small plane-like vehicle is a "flying car," there's a bit more insight in Zee.Aero's patent documents and drawings, where there's an image of a multi-rotor'd aircraft parked next to some boring old ground-cars in a parking lot.
The picture snapped by Eggleston does bear a resemblance to the profile drawing seen here:
While in the photo the wings are seen edge-on and you can't really make out any rotors inset into the wing, there does seem to be shapes on the wing consistent with the tapered bezels around the circular holes the rotors would run in, and you'd need such rotors to be able to hover as the witnesses claim to have seen.

There's also a pusher prop at the rear for forward motion, as well.
I'm not really sure whatever they're building out there should be called a "flying car"– it seems to be more like a parkable aircraft, but who knows, I am curious to see how this latest attempt at one of the most enduringly doomed propositions in personal transportation will turn out.