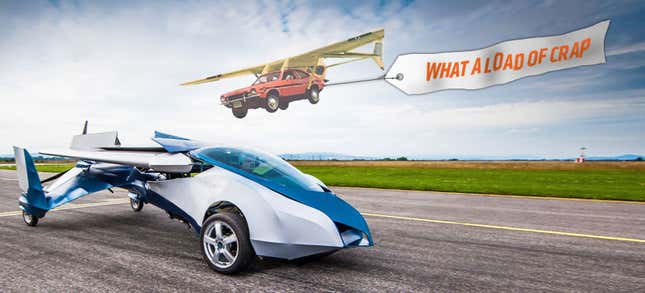 You know what manner of shit I can't believe? This shit. This shit right here. This flying car crap. Wired in the UK is telling us that the "flying car may have just landed," but what they really mean is "here's another remarkable flying car that'll never get made because this is how this always goes, forever."
Listen To The Lexus RC F Sing Through The California Mountains
Flying cars are the biggest, cruelest tease in all of motoring. They've been around since the 20s at least, and new ones keep popping up, year after year.
And you know what? I'm fucking done with them. I'm done with getting my hopes up and imagining how awesome they would be, only to be confronted by the cruel reality of the situation that I and everyone else in the world except the people who make flying cars seem to see.
Every flying car article is pretty much the exact same, too. They all talk about how it's hard to make a vehicle that's both a decent car and a decent plane, but their new solution has finally cracked that nut. And you know what? They're almost all correct. They almost all are technical masterpieces, and manage, somehow to be a credible car and plane.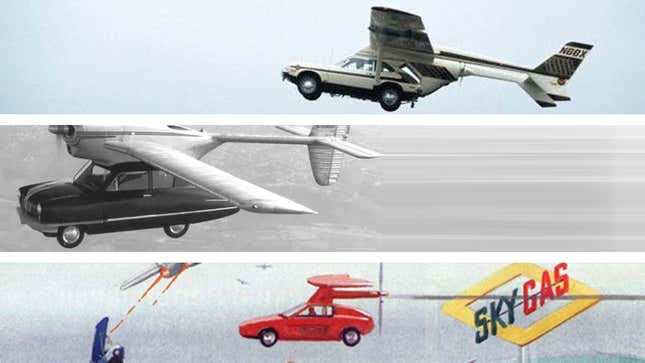 Except maybe for that Pinto-based one in the '70s.
Still, they all fail to realize that the problem isn't the engineering — the problem has been solved, more or less, dozens of times — the problem is nobody wants the damn things. Really. Each of these companies should have looked back at the decades and decades of failures here and realized that the problem isn't the plane — it's the pilots. Because that's what you have to be, a pilot, to drive one of these. And how many pilots do you know? And how many of them are screaming for these?
Just think for a moment and try to imagine the ideal customer for a flying car. It'd have to be someone with an actual pilot's license but no plane. Someone who actually needed both a car and a plane, and had no means to switch easily from one to the other.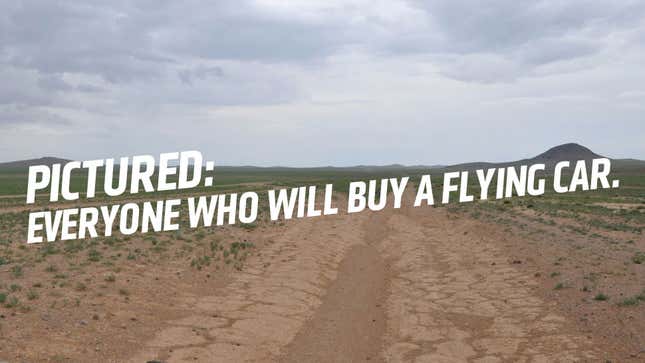 It'd have to be someone who, say, lived on a tiny island, and had a job on the mainland, in a city with no real public transportation and very restrictive laws about parking cars in overnight parking lots. This person would have to be sick of, say, rowboating to the mainland every day, and then hitchhiking the rest of the way to his or her job.
For them, a flying plane would be ideal. Or, maybe an amphibious car, too. Or maybe we should even consider a fucking jetpack for them, since, like a viable jetpack, these people don't fucking exist.
It's not that I don't like the machines themselves — I love them! I love the novel engineering and difficult problems with remarkable solutions. I just hate the waste, because everyone but these people who make flying cars know none will ever be sold.
Hell, even the Brits in WWII developed an almost-flying jeep, and they abandoned it because they too realized these things just aren't useful.
So, sorry Aeromobil 2.5, your machine sure looks cool, but as long as the regular morons like me who drive cars on a daily basis are required to be responsible enough to fly a plane, forget it. It's not going to happen.
Sure, maybe someday, with enough automation and an actual, fleshed-out system for highly-trafficked skylanes and the related infrastructure to deal with thousands or millions of small private planes in the air, it could happen. But it needs to start with the overall infrastructure that can accommodate people who currently can't be trusted to not text and drive to pilot an aircraft. Automation will be key, and a lot more planning and thought.
Until then, enough with these stupid, brilliant, desire-teasing bullshit flying cars. Use all that skill and those resources to make cars that fold into briefcases or low cost orbital launchers or edible cell phones or something.
Just give it a rest with the flying cars.