Porsche is confident enough to give Top Gear a 918 Spyder for the test we've all been waiting for, but surprisingly, the same cannot be said about McLaren or Ferrari. How is this going to happen? Luckily, we know a guy who might just be able to help.
(Warning: Some spoilers are below for the latest episode of Top Gear, so stop reading now if you haven't seen it.)
Porsche is known to hand their 918 Spyders to journalists with only one set of Michelins and no engineers in sight to "optimize" the cars for a given track. They are confident enough to let the product do the talking. So when Top Gear asked if they could pit the 918 against the McLaren P1 and LaFerrari at their test track, Porsche was in. The problems started with McLaren.
You see, Top Gear's playground is also where McLaren develops its cars, so they know exactly what a P1 can do on that sacred piece of tarmac, come rain or shine. They're aware that their car is a bit tail-happy while the 918 might be able to get out of some corners faster thanks to its clever all-wheel drive system. Yet eventually, McLaren agreed to join the party, with the condition that only customer cars can be used to make sure nobody plays dirty.
That's where Ferrari comes in, only to leave immediately. Despite having the lightest car with the most power, they didn't want to do this at all. But since Porsche and McLaren agreed on those conditions, they had to make a move. So, they sabotaged the whole project by insisting on using a car from the factory instead of one delivered to a customer, in opposition to McLaren. In case you're wondering why, it's because Ferrari is chickenshit.
G/O Media may get a commission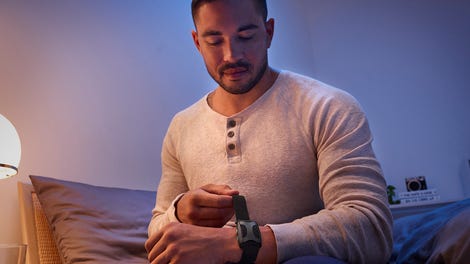 Ferrari also declared that if any of those who just left £1 million at their gates in exchange for a LaFerrari would dare lend their car to Top Gear, they would throw them out of the inner circle and forbid them from buying any limited-production Ferrari ever again from the factory.
There's a guy in the Middle-East, however, who has all three cars and is not afraid of Ferrari's terror, so, problem solved. But probably for the very same reason (the man's name is Mr. Bin Laden, according to the hosts), Top Gear would rather avoid asking for him a favor. Time for Plan B.
As in, another Mr. B.
British supercar collector Paul Bailey became the first P1 owner in the UK 14 months ago, much like how Jay Leno became the first P1 owner in the U.S., and on the 21st of January, he and his wife drove their Volcano Red car to Ferrari Nottingham to pick up their new hypercar, a custom made LaFerrari with a Rosso Fuoco paint job, black detailing and a red Alcantara interior.
To make the most of the day, their next destination was Porsche, and after recording a maximum speed of 61 mph on their way to the dealership with the LaFerrari and the P1, the only thing left to do was to push the start button on a the Pearlescent White 918 Spyder with Acid Green accessories, including color matching keys that only cost an eye-watering $1,400, and the Weissach Package but with the air-con and heating put back in. They had to keep the British weather in mind.
I think that if Bailey's up for it, he might be the man for the job. His next stop is at Silverstone with the holy trinity, but who knows, maybe he could also make it to the Stig's favorite circuit at one point.
On a side note: The LaFerrari does have an all-electric range, it's just so small that they won't advertise it.
Come on Mr. Bailey. You don't need more supercars, do you? Get them out on track!
UPDATE: After we ran this story, a source at McLaren reached out to us to say that they had a P1 ready to go for testing, but it was Top Gear who pulled the plug on them. "The internet have been calling us a lot of things that should probably be reserved for Ferrari's testing policy," our source said. We're trying to find out more...