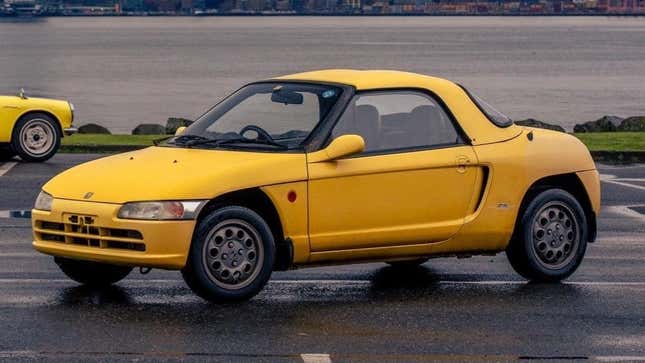 Jalops of the Pacific Northwest, we need your help. Time after time after time after time, the reader of this site have come together to help fellow enthusiasts recover their stolen cars. Now, a bright yellow Honda Beat has gone missing in Seattle, and we're once again lighting the fires and calling for aid. Have you seen this car?
The Beat is a distinctive one, bright yellow with a color-matched hardtop. Its license plate number is BWG3102, and it was taken from a driveway in Seattle on Friday March 3. It's been spotted in Seattle's Alki neighborhood, and in nearby White Center — still driven, presumably, by the thief.
Friend of Jalopnik Victoria Scott just had the chance to drive this delightful Beat last week, and sent up the flag on Twitter when the car went missing.
There can't be too many yellow Beats in Seattle, so any instance of the brightly-colored kei car is worth checking out. If you catch a glimpse of the car, reach out to its owner, Jarren, on Twitter, or send an email straight to me, sdasilva@jalopnik.com. Chances are, such a unique car would be difficult for a thief to unload — it's likely still out there in (or near) the city of Seattle.
Having a car stolen is a heartbreaking experience, but having such a rare and special car taken away is even worse. You don't see Beats every day, and bringing another one in from Japan would likely be a tedious ordeal — not to mention the impossibility of replacing a car you've built memories with and bonded with. If you're in the Seattle area, please, take some time if you can to search out this bright little car. A fellow enthusiast, someone who shares our collective love for odd, out-there automobiles, could really use your help.