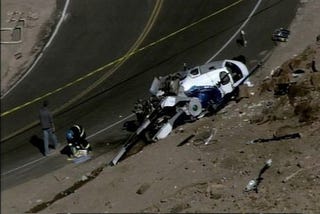 All four crew members injured during the helicopter crash on the summit of Pikes Peak yesterday were released from the hospital by last night. The crew was filming the driverless Audi TTS autonomous car when the crash happened.
Stanford University and Audi were in the process of filming the driverless Audi TTS as it made its way up Pikes Peak when the helicopter went down. Video of the wreckage shows the aftermath of a hard landing that left the Aerospatiale Twinstar A355 F1 helicopter a twisted mess.
On board was the pilot, Jim Dirker, two Audi engineers, and a camera operator. The cause of the accident is unclear, but sources in the industry tell us Dirker, president of AirCam National Helicopter Services, is one of the best in the industry.
"For [Dirker] to bring his chopper down like this, it had to be absolutely catastrophic," said a friend of one of the camera operators.
Spokesman Brad Stertz was in Colorado for the shoot, but didn't witness the helicopter accident first-hand. He told Jalopnik the helicopter was moving slowly up the mountain and weather doesn't appear to be a factor. He confirmed all parties were released from the hospital last night, indicating the injuries weren't severe.
The NTSB and local authorities are investigating the crash and both Stanford and Audi expect to return again soon to finish taping the car's ascent up Pikes Peak.