Today saw the widely unloved Formula One elimination qualifying system given a second chance at the Bahrain Grand Prix. However, the moderate dumpster fire that raged heading into the weekend intensified to a full roar, and no one seems to have the number for Bahrain International Circuit's fire department.

As in Australia, drivers were too often eliminated while waiting in their garage, cars spent far too little time on track, and the dumpster fire seemed to hit a never-ending source of fuel beneath the initial rubble that sparked heading into the season opener.

In a real shocker, drivers proved that very good cars with very good drivers will lay down faster qualifying times than slower drivers in slower cars, giving us a grid for tomorrow that looks much the same as it would have under the previous watchable qualifying system. This, too, happened with the first attempt at this qualifying style at the Australian Grand Prix.

G/O Media may get a commission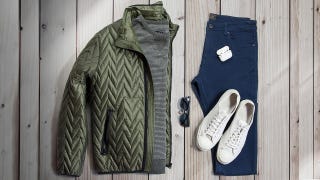 60% off
Jachs NY Fall Sale 60% Off
Despite the dumpster fire raging out of control, Stoffel Vandoorne had an impressive Formula One debut, matching Fernando Alonso's 12th-place starting position from Australia in Alonso's McLaren car. Vandoorne is filling in while Alonso continues to recover from injuries sustained in a massive rollover crash in Australia, despite the team's best efforts to get Alonso rechecked and cleared by medical staff ahead of this race.

Vandoorne also out-qualified McLaren teammate and 2009 F1 world champion Jenson Button. That's an insanely good debut, and further proof that someone needs to give him a full-time race car next year.

Another bright spot was the final flying lap by Lewis Hamilton that won him pole position for tomorrow's race: a remarkable track record of 1:29.493. He's a very good driver in a very good car, so unsurprisingly, he was at the top—as the fastest cars really should be, even in a qualifying system that actually works.

Despite these points of interest, most of qualifying was not interesting at all. The first session ended with no action on track for the last couple minutes. The most interesting part of the second session of qualifying happened when the lights at the end of pit lane were stuck on red as the session began. A marshal was forced to manually wave the cars out with a green flag to start the session.

Technical difficulties were raised as a concern as Formula One adopted this dumpster fire of a qualifying system, however, that's just a good ol' fashioned track systems glitch.
Even after the second session began, many teams still quit before the end of the session in order to save their tires. The entire field ultimately peaced out with over two minutes left on the clock for Q2. The dumpster fire continued without so much as an extinguisher in site during the final session of qualifying as well, with teams opting for the fastest but most wear-prone supersoft tires and shying away from too many laps accordingly.

Proponents of the new system hoped that today would show what teams would do after they understood the format better, and I think it's obvious that they do. Teams know that they should do as little as possible out on track for qualifying because the performance of their fastest tires will completely fall off otherwise.

Those drivers who attempted in vain to extinguish the dumpster fire with the drops of water left in their onboard drinks systems were unceremoniously dismissed by F1 head honcho Bernie Ecclestone following the race.

Ecclestone, the very king of dumpster fires himself, claimed that some drivers are just "windbags" in remarks made to Motorsport.com. Ecclestone feels as if they're just parroting the teams' dislike of the new qualifying system:

They can say what they like. This is the whole thing. They cannot do anything. They have an opinion and everyone has got an opinion.

It is really their discussion with their team; and the team has got a voice. They are only saying what the teams have told them to say.
Funny, because the fans seem to be saying the same thing as the teams and their so-called driver-puppets: this stupid gimmick of a qualifying system is a dumpster fire that nobody outside F1's terrible leadership wants.

Ecclestone went on to tell Motorsport.com that he believed drivers should not have any permanent place on the decision-making F1 Commission, despite the fact that the drivers are the ones actually in the cars every weekend, making the whole show happen.

Ferrari driver Sebastian Vettel took particular offense to Ecclestone's idea that the drivers speaking out against the now-biggest dumpster fire in the world was a power grab, telling Motorsport.com:

First of all, it's clear that we drivers are not here to make the rules. In no sports do the sportsmen makes the rules. That's clear.

We don't want to be the ones that decide where the sport is going. In the end we're here to drive the car and that is what we enjoy and love to spend our time with.

We're not asking on top of that to be in charge of the rules. The intention to send the letter out was there already before the race in Australia.

Obviously, the qualifying is the best example to show that something is not right.

Meanwhile, the dumpster fire has grown to such a size that those closest to the Bahrain Grand Prix are being asked to back away to a safe location, preferably beyond the nearest body of water.

Sky Sports reports that FIA president Jean Todt has already called a meeting for Sunday to discuss the ever-growing chute of flaming garbage known as the elimination qualifying system.

Todt told Sky Sports that promoters were the ones initially pushing for a more exciting qualifying format, and that it remained in play for Bahrain because "We know the best way to understand new regulations is to practice new regulations."
Todt also went so far to explain to Sky Sports that you, the very fans who support the sport and keep it alive, do not matter:
[W]e cannot be guided only by social media. We are aware of social media, but social media should not be what guides us to run our organization.


We are going to address it, but we are in a world where there is too much overreaction. I think we must give a chance for things to be more understood.

I was thrilled by the race in Melbourne.

Few have tried to claim that the racing at the Australian Grand Prix was anything but great fun to watch. The fact that the season opener's qualifying session produced a similar result to the old system proves that Todt's final point is an irrelevant attempt to deflect attention away from the out of control dumpster fire known as elimination qualifying.

Disappointingly, Todt is still pushing the idea of a modified version of this failed qualifying system—the same one that was proposed and shot down by teams ahead of Bahrain. Todt told Sky Sports that the final session was the biggest issue, which suggests that he either didn't watch or pay close attention to the garage-fest that was the second session. The third session today was the only one that had cars on track anywhere close to the end!
If allowed to continue unchecked, this dumpster fire is expected to eclipse the size of the moon by June, detonating myriad weapons in the area and forcing the entire the world into nuclear winter, at which point, not even curly fries dipped in horsey sauce can save us.

(Err, okay, that might actually be a bit of an exaggeration.)

Regardless, it's pretty obvious now that F1 must change not only its system of qualifying, but its entire system of governance as well. When fan and driver concerns no longer matter at all to the men in charge, it's time for those people to give up the reins to someone who cares.