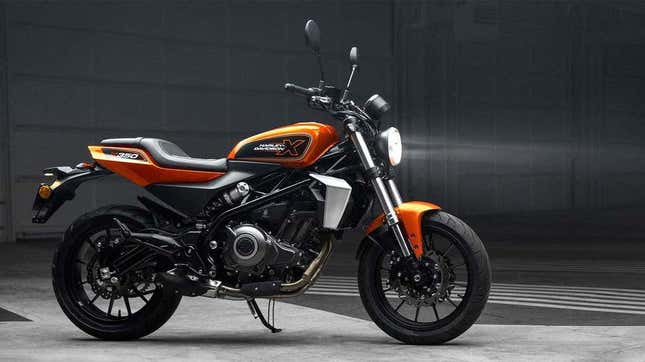 Harley-Davidson's image is as star-spangled as anything. And in 2023, that presents a challenge: Building motorcycles in the U.S. is expensive. So when Cycle World published evidence that seemed to indicate Harley was about to import a made-in-China motorcycle to the U.S., Harley fans got notably concerned. The truth is perhaps less scary: Yes, Harley is going to import the Chinese-made bike you see above to the U.S., but it won't be offered for sale.
This Foldable Electric Scooter Is a Motocompo for the 21st Century
First things first: The bike you see above is the Harley-Davidson X350. It's basically a beginner-friendly motorcycle swathed in Harley styling. Cycle World published the first leaked photos of the bike a few months back, explaining that the bike would be built in China by a joint-venture between H-D and Qianjiang, a Chinese conglomerate that also owns the Benelli motorcycle brand and is itself owned by Geely, parent company of Volvo and Polestar. The X350 uses a 353-cc parallel-twin engine developed by Qianjiang and used in various QJMotor and Benelli models.
Here's where things got murky. More recently, Cycle World uncovered regulatory documents from NHTSA and the California Air Resource Board, indicating that Harley-Davidson was seeking certification to import the Chinese-made X350 (and a larger-displacement X500 variant) to the U.S. Was Harley really planning to sell a Chinese-built beginner bike in American dealerships?

Not exactly. Jalopnik reached out to Harley-Davidson to ask about the paperwork uncovered by Cycle World. A Harley representative explained that the X350 RA — a variant mentioned in the regulatory documents cited by Cycle World — will be imported to the U.S., but only for use in Harley Davidson Riding Academy, a training course aimed at first-time riders hosted by the manufacturer. Our source at Harley-Davidson was adamant: The X350 RA will not be sold in U.S. dealers. The regulatory paperwork, it seems, is just what's required to get these beginner-friendly bikes into the U.S.
Now, that doesn't mean Harley will never sell a Chinese-built motorcycle on U.S. shores. But for now, you can all put down your pitchforks. And hey, if Harley does decide to sell the X350 or X500 in the U.S., those bikes will join a growing number of excellent small-displacement motorcycles that are great for beginner riders.