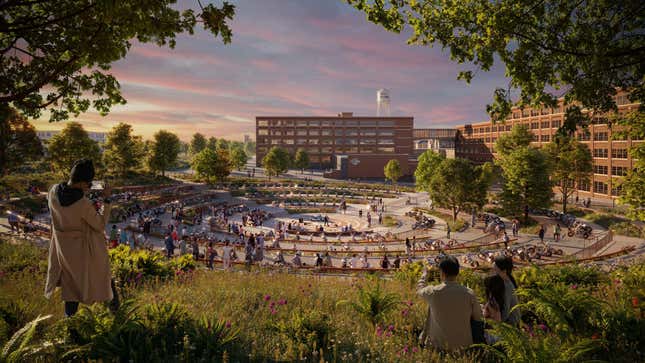 Harley-Davidson is turning a big section of its headquarters in Milwaukee into a public park for employees, for faithful riders and for nature-lovers alike. The storied motorcycle company, led by CEO Jochen Zeitz, says the new park will give the local community a much-needed "greenspace," and will eventually be expanded with a "market street, contemplative garden, and nature playground."
Honda's Motocompacto Is The Ultra Portable E-Scooter That Can Fit Just About Anywhere
I'm having trouble processing the concept of Harley-Davidson — with its loud "Screamin' Eagle" exhausts and historical image based on its burly big twin engines — with the concept of a peaceful, quiet park. But here we are: a little over one year away from the Harley-Davidson community park and garden, due to open in the summer of 2024.
The park won't take over all 500,000 square feet of Harley HQ, but will turn "a central element" of the Juneau Avenue campus "into a civic and soulful green gathering space," according to the company. The park will be centered around "The Hub," a 272-foot wide amphitheater for motorcycles where riders use circular driveways to park their bikes, then sit to watch events.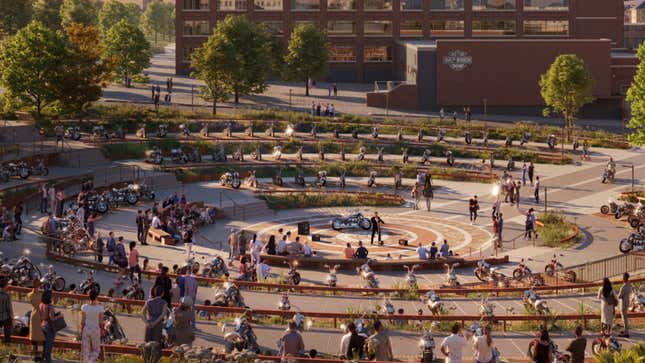 The park surrounding this space will be sown with native plant species, and Harley plans to expand the park with a street for a farmer's market or other local vendors. And since the company says the community is in need of even more "greenspace," a garden and nature playground are in the works despite the project not having broken ground yet.

The Heatherwick Studio designed the park, and worked with the Harley-Davidson Foundation (which now owns the land) to draw up the plans. The studio is famous for designing Google's new campus in Bay View and the Little Island in New York City, among others. Local companies will also pitch in to build the park, including Milwaukee architectural firm, HGA, and Near West Side supplier, Greenfire Management Services.
Harley-Davidson is turning 120 this year, and yet the old dog keeps proving it can learn new tricks. The park announcement comes months after Harley-Davidson said it planned to repurpose its Milwaukee HQ rather than reopen it, and demand that employees return to the office. The campus had closed at the onset of the global pandemic, and (like many major companies) employees kept working from home.
Zeitz later said the campus would not fully reopen, and that the company would let employees work from home on an extended basis. Helping workers achieve the near-mythical work/life balance was part of the deal, but Zeitz explained the policy would help Harley attract and retain new talent, which the company will need as it embarks on the next phase with its EV brand, LiveWire. Now, the company is adding a neat park to its list of perks on top of its WFH policy.