Seeing F-22s deploy internationally is nothing new, but usually it's in relatively small groups of four to eight jets. Yet the 525th Fighter Squadron based at Elmendorf AFB, Alaska, has just moved 12 F-22s (half of its inventory) to Yokota Air Base in Japan. Obviously such a potent deployment is meant to send a strong message to allies, and potential foes, in the region.
Yokota Air Base is located in central Japan, just 20 miles from downtown Tokyo, and sits about 550 miles away from the Korean Peninsula. The central base gives the F-22s and their crews a hospitable place to set up temporary operations, and easy access to make their presence known to North Korea and even China. In the past, F-22s have occasionally been deployed to Okinawa at the USAF's sprawling Kadena Air Force Base complex.
G/O Media may get a commission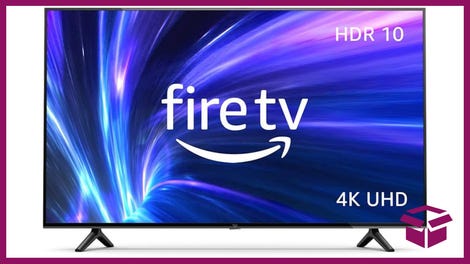 42% Off
Amazon Fire TV 50" 4K Smart TV
The F-22s fairly large-scale arrival at Yokota Air Base comes just weeks after North Korea tested yet another nuclear device and as tensions along the demilitarized zone between North and South Korea have escalated. Additionally, Taiwan has elected a new pro-independence President, heightening tensions in the Taiwan Strait.
Within days of North Korea's nuclear test, the USAF and their South Korean counterparts flew a formation of F-15s and F-16s over South Korea, with a nuclear capable B-52H bomber as the centerpiece. It was absolutely one of the lowest forms of military-to-military communication, but such elaborate, if not even corny brandishing of weaponry, has worked in the past when it comes to getting the paranoid North Korean leadership's ambitions in check.
Supposedly the resident F-16C/D aggressor force stationed in Alaska, the 18th fighter squadron, is also going to be sending at least a dozen jets to Yokota Air Base. Although these aircraft are painted in exotic camouflage and are staples at air combat exercises in the region, they are still standard Block 30 F-16C/Ds with highly trained crews that could be used for combat operations in an emergency. Still, their use will most likely be threat replication for Japanese, American and possibly Korean and other units based around the region.
Don't be surprised if smaller detachments of both Raptors and F-16 aggressors jets turn up around the region, and especially in South Korea, for cooperative training. In doing so, the impact of the larger deployment, which does not come cheap, can be amplified and will serve as a clear reminder that the U.S. still leads in some very deadly forms of combat capabilities—ones that can be rapidly deployed to forward operating bases if need be.
Now we will have to wait and see if this F-22 deployment, and the addition of F-16s from Alaska, will grow even larger. Once we finally get a tally of what is in the region and where they plan to go from their temporary perch at Yokota Air Base, we can get a clearer picture of the deployment's specific goals.
Yet one thing remains crystal clear, with all the American F-15s, F-16s, F/A-18s and other combat aircraft stationed in the region, the F-22 is now, more than ever, the go-to intimidation stick for Washington to hang over our potential enemies' heads. Although, with so few F-22s built, it is too bad we don't many more of those sticks at our disposal.
Contact the author at Tyler@jalopnik.com.

Photos via USAF