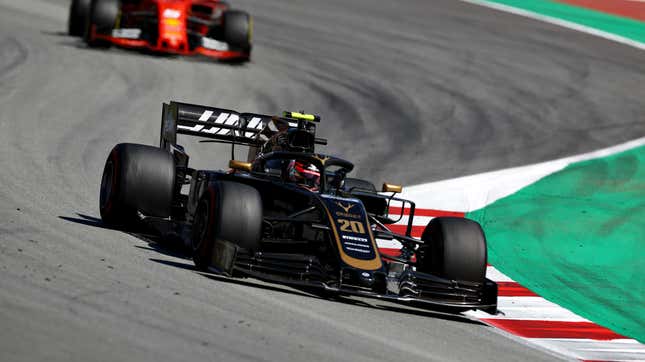 Rich Energy, the enigmatic British energy-drink company that came aboard the Haas Formula One Team's cars this year and brought a whole lot of questions of legitimacy with it, tweeted Wednesday that it has terminated its contract with the team. The tweet cited "poor performance" and a "PC attitude" in F1.
The tweet came as a shock, even more so than Rich Energy's usual tweets do, since the British Grand Prix is a few days away and since F1 is only nine races into its 21-race season. But it is on brand for Rich Energy, which always wants to prove itself against energy-drink giant Red Bull.
"Today @rich_energy terminated our contract with @HaasF1Team for poor performance," the post said. "We aim to beat @redbullracing & being behind @WilliamsRacing in Austria is unacceptable. The politics and PC attitude in @F1 is also inhibiting our business. We wish the team well."
"PC," of course, is internet speak for "politically correct."
The tweet from the Rich Energy account came just a few hours after the Haas team posted several photos and videos of members wearing Rich Energy gear, like this photo of drivers Romain Grosjean and Pietro Fittipaldi from nine hours earlier and a video of Fittipaldi from seven hours earlier. Rich Energy branding is still all over the Haas Twitter account, and the team hasn't posted since the tweet about the contract termination.
Jalopnik has reached out to both Rich Energy and Haas for comment, and will update this story if we hear back. We asked both, among other things, whether the branding will be off of the cars immediately.
The Haas-Rich Energy partnership has been marred with questions since it was announced, stemming from early findings of documents that showed the drink company as having 581 pounds in the bank in 2017. (Rich Energy CEO William Storey has told Jalopnik that those documents tell an "irrelevant" part of the story, and that the company now has "considerably in excess of eight figures" in its bank account at "any one time.")
There were also questions of its unclear origins and Storey's rocky past in terms of business attempts, as well as ones about whether the company had the cash to enter a red-carpet racing series like F1. Both Haas and Rich Energy declined to comment on the details of their deal with Jalopnik, but it should be noted that Haas can and has supported its cars in multiple series with Haas CNC branding.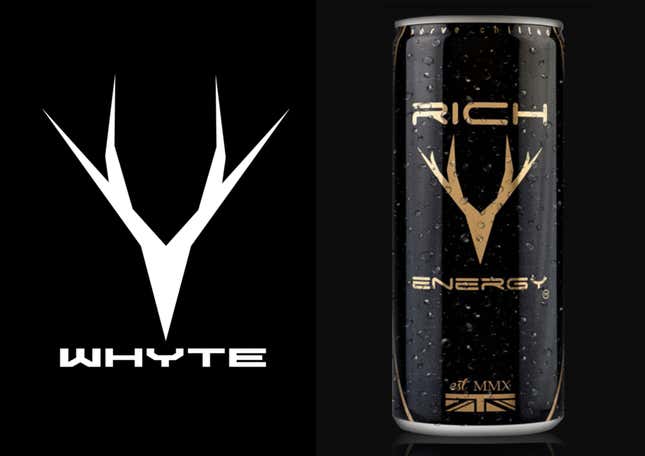 Then came the court case over Rich Energy's deer-head logo, which it has said represents the stag in a local park in Richmond, where its name is loosely derived from.
In a scathing judgement, a judge from the Business and Property Courts of England and Wales found the two witnesses for the claimant, Whyte Bikes, to be "straightforward, credible and reliable," while the judge found some of Storey's evidence to be "incorrect or misleading" and believed him to be "involved in the manufacture of documents during the course of litigation to provide additional support for the Defendants' case."

Rich Energy lost the case, and the judge ordered its logo to be invalid starting on July 18. The company has until then to request an appeal, but should the current ruling stand, Rich Energy will have to disclose its global and UK sales to Whyte Bikes, among many other things. Rich Energy pulled the logo from the Haas cars before the Canadian Grand Prix in June.
It's been a short but tumultuous ride, this Rich Energy-Haas F1 partnership. But it might have finally come to an end, all thanks to a finish behind the Williams F1 team and that pesky "PC" culture.
Update: Thursday, July 11, 2019 at 5:45 a.m.: Neither Haas nor Rich Energy have responded to Jalopnik, but the Haas Twitter account posted, more than half of a day after the original tweet from Rich Energy, that the drink company is still its partner.
"Rich Energy is currently the title partner of Haas F1 Team," the tweet quoted team principal Guenther Steiner as saying. "I cannot comment further on the contractual relationship between our two parties due to commercial confidentiality."