Maybe you spent this weekend like us at the Woodward Dream Cruise, watching eight gagillion Chevy Bel Airs doing five miles an hour. Maybe you baked a delightful peach pie. Maybe you did donuts in a 1990s Ford Mustang on San Francisco's Bay Bridge and got arrested.
You're watching a three-car sideshow shutting down the long and lovely Bay Bridge on Sunday morning, quickly prompting the ire of many of the Bay Area's more uptight citizens, who were all presumably pissed they'd be late to their Burning Man-recreation songversations or whatever it is anybody does in SF anymore.
In any case, the cops got called on these three, one in a New Edge Mustang, one in the aforementioned white SN95 and one in a lovely MkIII Toyota Supra. I don't think I've ever seen a Supra in a sideshow. Truly the times are changing.
Here's how the SF CHP put it in an official FB announcement:

At 1045 hours video was taken by a passerby of vehicles stopping traffic on the Bay Bridge west of Treasure Island heading into San Francisco. These vehicles were engaging in side show activity on the freeway. Multiple units from the CHP San Francisco Area responded and were able to take the driver of one of these vehicles into custody. Numerous other vehicles suspected to be involved with the side show were also stopped for mechanical violations as they exited the Bay Bridge.

The driver of the white Mustang will be booked for reckless driving and exhibition of speed and his vehicle impounded for 30 days. Drivers of the other vehicles stopped were cited for various mechanical violations and one of those vehicles was also impounded as the driver was determined to be unlicensed.

G/O Media may get a commission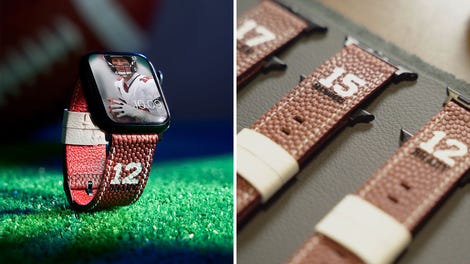 Official NFL PRODUCTS
Official NFL Apple Watch Bands
The CHP also put out a statement thanking everyone who called them:
What's amazing is that the New Edge Mustang and the Supra did actually get away, as the SF Chronicle reports:
Two of the cars escaped the scene before officers arrived, said CHP spokesman Vu Williams.

Perhaps the New Edge and Supra shall ride again some day, turning tight ones and delaying Silicon Valley gazillionaires another time.