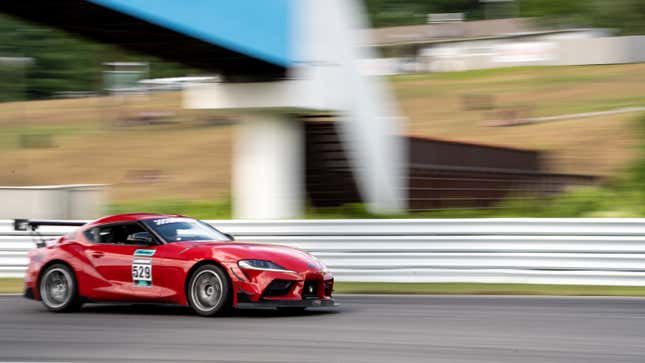 For probably 20 years now, I've been attending races at Lime Rock Park. It's the track I call home, the one I know best. Even sitting at my desk, I can picture exactly how a car moves through each of its seven corners. It's a staid, respectable establishment, drenched in history and class.
But for one exceptional weekend, Lime Rock changed. Its vintage open-wheeled cars and aging spectators were replaced with drifters and time-attack racers, with a younger, more diverse crowd watching from the hills. For one weekend, Gridlife Circuit Legends came to town and changed Lime Rock Park for the better. Lucky for us all, then, that events like Gridlife are the future of the car community.
With the 2023 season of automotive events on the way, it's as good a time as any to review the state of the enthusiast world. After all, you'll have to pick and choose which events get your hard-earned time and money this year. There are plenty of vintage races and SCCA autocrosses on your calendar. Why not try something new?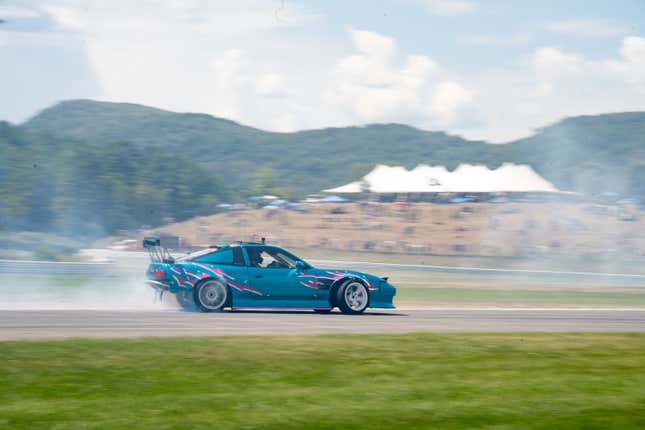 I grew up as a regular attendee of Lime Rock's vintage weekends, the Historic Festival the track puts on for every Labor Day weekend. From vintage open-wheel racers to Datsuns and Corvettes of the early '70s, the Historic Festival is always a love letter to bygone eras of racing.
Of course, the people who most appreciate those bygone eras are the ones who were there. It's unsurprising, then, that the spectators for the Historic Festival skew older. The stereotype is white-haired, white socked Car Men, their faded Corvette t-shirts tucked into beige cargo shorts, dragging their resigned and long-suffering partners into the unflinching sun. A look around Lime Rock on vintage weekends shows the stereotype is not without foundation in reality. Those attendees view the races as a way to recapture a lost youth, to bring back the experiences that once brought them joy.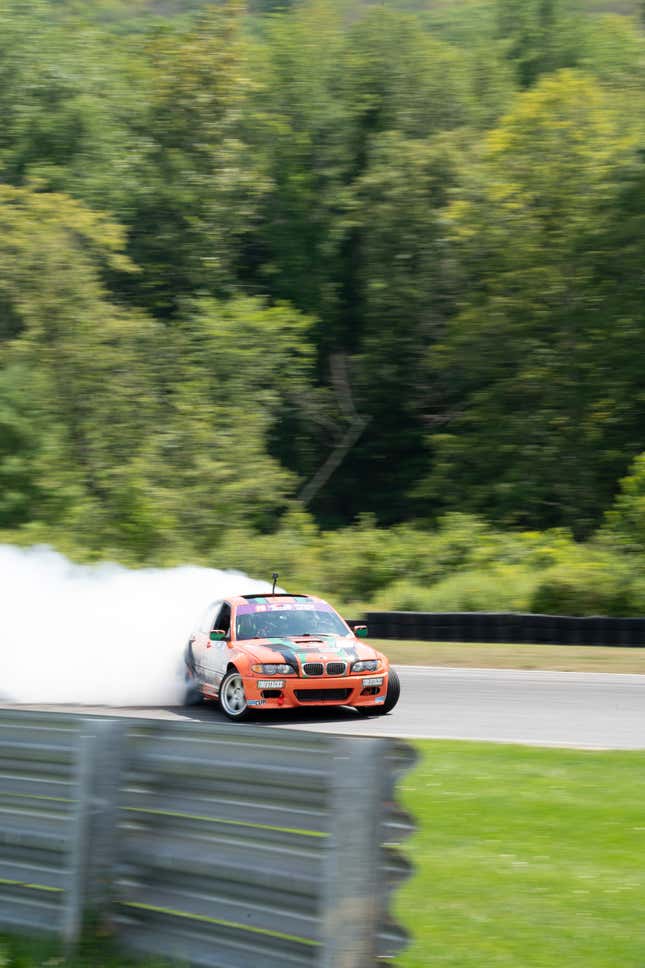 Those Car Men are so interested in vintage racing because they know it. They know the drivers, the liveries, the sponsors outlived by fading stickers on a fender. They can rattle off tales of racing past, the on-track battles, the off-track antics. My childhood at Lime Rock was spent watching others relive theirs.
But nostalgia is an interesting thing. In order to have it, you need warm, happy memories of a time gone by. To get those memories, you need lived experiences, a way to see, hear, and smell the racing you'll remember in your old age. For today's kids and young adults, that won't come from vintage racing or some historic concours. It'll come from drifting and time attack, spec series and HPDE, from car YouTubers and Instagram personalities. All these factors can come together in one place, as long as you know where to look: Events like Gridlife.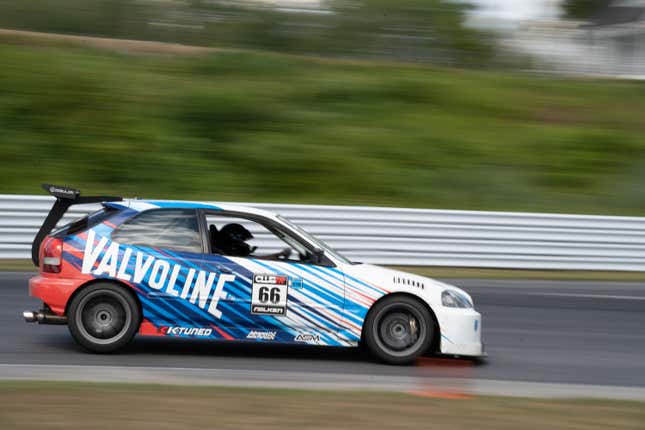 That's the experience of a Gridlife event. The YouTubers that these attendees subscribe to are here, racing the cars they built in video after video. The Formula Drift drivers with careers built on social media are out on track in their thousand-horsepower glory, turning otherwise unknown tire brands into heavy hanging smoke. It's a vintage event in real time, all the automotive moments you'll talk about in 40 years happening all at once.
While I wandered Lime Rock's open paddock, I saw a moment where it all clicked. A young woman in a James Deane shirt grabbed the arm of a guy her age, nearly dragging him along as she raced to see Ryan Tuerck's Toyota 86 roll back in after a drift session. The guy had no branded apparel on, no Bride/Takata backpack, no signs of automotive enthusiasm. He looked as lost as the sunburnt wives at any Historic Festival.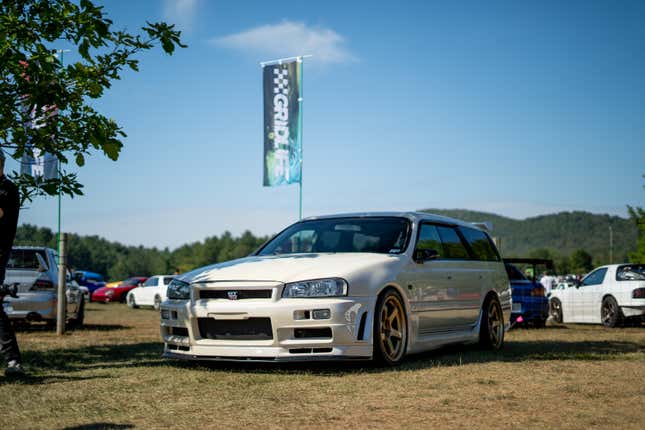 Of course, the paddock and the track aren't the only places to see cool cars at Lime Rock. Gridlife Circuit Legends included a concours full of the titular Circuit Legends, cars like 993-generation Porsche 911s, Nissan Silvias, AE86es and Lancer Evos. A Paul Newman Oldsmobile took center stage under the concours tent, yet stood almost entirely overlooked for the weekend. All eyes were on Rob Dahm's quad-rotor, all-wheel drive FD RX-7, sitting just a few feet away.
Lime Rock's parking lot always has its fair share of enthusiast vehicles. But I'd never seen so many daily drivers that so closely matched the cars on display and on track. It was almost tough to tell where the concours ended and the parking began, as Stageas and NSXes gradually faded to WRXes and BRZs.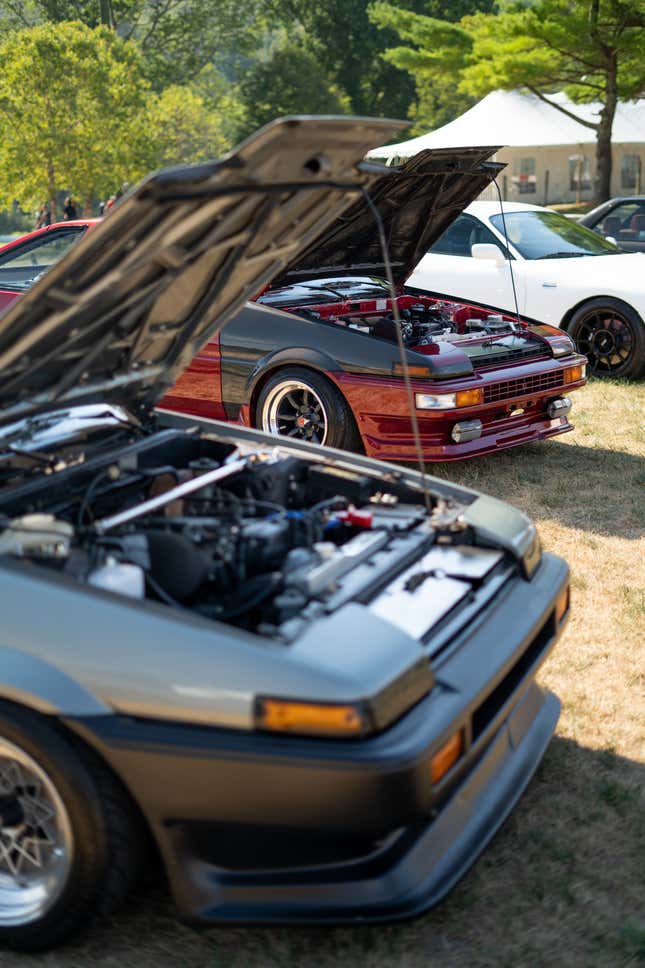 At Gridlife, the vibes are always good. There's an upbeat energy around, something no mechanical failure or off-track escapade can dampen. Similarly, the series' grassroots spirit remains intact; vintage race cars are investments as much as vehicles now, and the owners who have the courage to send them on track do so with an abundance of caution. But at Gridlife, scrapes and drift stitching abound, and drifters take Dremels to 240SX trunks hoping for more airflow to rear-mount radiators.
This lighthearted attitude also helps make Gridlife feel accepting and open. The series brings along an arcade tent full of sim rigs for those who'd rather spin into a digital wall than a real one. Among the tents in the paddock was one for an LGBTQ advocacy organization. The stickers the group handed out appeared on more and more cars as the weekend went on. Children far too young to climb behind the wheel weaved drift-prepped RC cars through the parking lots, countersteering just like the grown-ups circling the track.
Gridlife isn't an event built for older enthusiasts hoping to reclaim their youth with echoes of races past. It's an event for today, the generation of car enthusiasts that followed — and for everyone after. It's for YouTubers, social media addicts, queer folks and kids. Gridlife is the future of the car community, because that future is all of us.