There were only 23 Lotus Elite Super 95s produced, including one that Lotus gave to racing legend Jim Clark as payment for Clark's Formula One driving instead of actual money. A fair deal, if you ask me.
That car is now at auction, if you've just won the lottery or you've stumbled on a quarter million dollars in a bag on the street. It's a real looker and, by rights, should be mine.
The Super 95 was a more powerful version of the regular elite, making 95 horsepower out of its inline four-cylinder engine, a number which sounds small until you consider that the Super 95 only weighed 1,500 pounds. That was thanks to its fiberglass body and its lack of a traditional frame. You could probably bench press this car if you tried.
The Super 95 at auction at RM Sotheby's is expected to go for up to £200,000, or $265,000. It comes with an uninstalled Hobbs Mechamatic transmission, an early sequential gearbox that Clark used when he owned it. They claim it's the first sequential gearbox, but I don't think that's exactly true; either way, it's a fascinating piece of tech for its era.
G/O Media may get a commission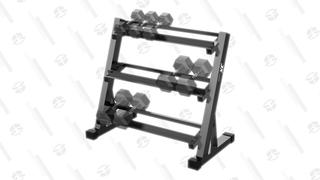 20% Off
JX Fitness Dumbbell Rack
Gains but tidy
Has a three-tier design to help store more weights more conveniently, can safely support up to 1000lbs of weight, which should be enough for most people, has a triangle base for stability, and also features anti-scratch feet which is great if you've built your own studio or workout in your garage.
The Elite also has next to no miles on the odometer, or four to be exact, which means this is about as pristine an example of an Elite that you're ever going to find, with a provenance that is unmatched. This is Jim Clark we're talking about after all, a guy we once decided was the second greatest F1 driver ever.