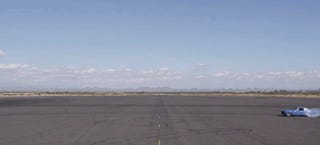 Ford managed to group together 50 years of the best stripped, tuned, restomodded Mustangs in the country, handed the keys to some of the best stunt drivers in the world and, well, here's what happened.
I mean, these guys even managed to get a hold of a Mustang II that kicks ass. I have no idea how they did that.
The guys behind the shoot are Andy Laputka and Shoot First Media, the same people who put together the most beautiful car film in years. The drivers are Formula Drift's best. There's 2010 Formula Drift Champion Vaughn Gittin Jr, 2009 and 2014 Champion Chris Forsberg, and 2009 runner-up Ryan Tuerck. There are also a couple other drift drivers you might recognize, just like all the RTR and Creations n' Chrome cars.
I'm not sure I've ever wanted a Mustang more than after watching this video.