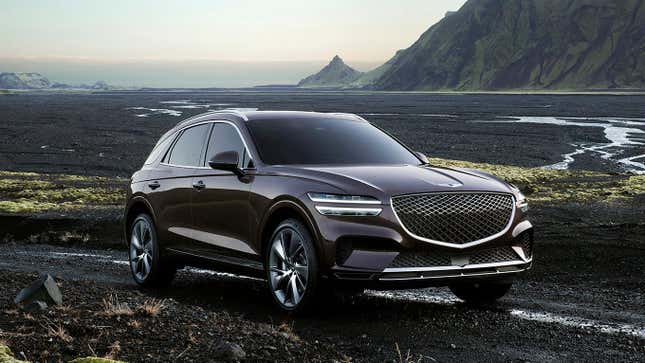 If you're in the market for a luxury crossover, the Genesis GV70 is a tempting choice. It's ridiculously good-looking, can be had with a 375-hp V6, has a gorgeous cabin and comes with a 10-year powertrain warranty. With a base price below $45,000, it's a bargain compared to the BMW X3 and Mercedes-Benz GLC. Or at least it would be if it was actually selling for MSRP. Which it very much isn't.
The 2023 Ford F-150 Raptor R Is Here
CNBC reports that last month, the Genesis GV70 had the highest markup percentage of any vehicle sold, going for 28 percent over MSRP. Suddenly, the GV70 doesn't sound like such a bargain anymore. It's also not the only vehicle still selling at a ridiculous markup. 31 percent of cars sold last month went for more than MSRP, with at least 10 getting markups of 20 percent or more.
After the GV70, the Jeep Wrangler had the second-highest average markup, followed by the Mercedes-Benz GLB, Porsche Taycan, Jeep Wrangler Unlimited, Cadillac CT4-V, Genesis GV80, Porsche Macan, Cadillac CT5, and the Lexus RX350h. If you're considering buying one of those, you might want to hold off until prices drop or buy a more reasonably priced competitor.
Still, there are a few not-completely-terrible deals out there. The Chevrolet Silverado can reportedly be had for slightly less than MSRP, and the Volkswagen Arteon, Cadillac Lyriq and Infiniti QX80 were all basically sold at sticker last month. We're also seeing new car prices fall compared to where they were in July when 48 percent of cars were going for more than MSRP. So things are improving, just not quickly enough.
"The manufacturers keep raising their prices and then the dealers raise them again," said Karl Brauer, executive analyst at iSeeCars, told CNBC. "The difference between dealer pricing and MSRP should continue to fall as the supply chain improves, though getting back to MSRP for most models may not happen this year."
If you absolutely have to buy a new car soon, your best bet is probably to expand your search beyond your local dealerships and see if you can find a reasonable deal. But if you can, it's still a good idea to wait for prices to continue to fall.