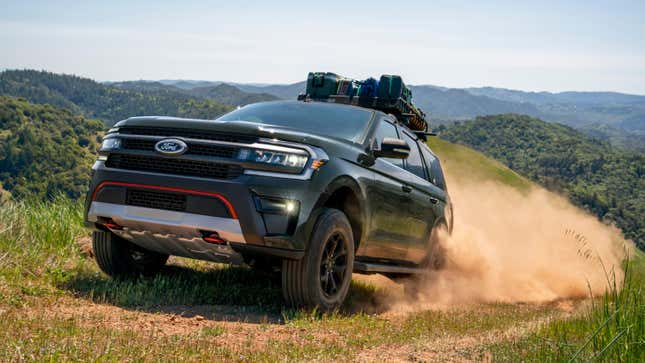 The Ford Expedition is a big SUV. It's more than 17 feet long, is almost seven feet wide, and it weighs 5,500 lbs. It's also not exactly something you'd typically choose for doing some serious off-roading. But that doesn't mean there aren't plenty of people who would pay big money for an Expedition Raptor. And if the latest rumor is accurate, Ford's seriously considering building it.
The 2023 Ford F-150 Raptor R Is Here
According to Ford Authority, unnamed sources say a new off-road version of the Expedition is under consideration and could end up being called the Expedition Raptor. Neither the new version nor the Raptor name have been officially confirmed yet, so this all hinges the word of anonymous people who are allegedly "familiar with the matter." But it certainly wouldn't be the craziest thing that Ford has ever done.
After all, Ford already sells the Expedition Timberline, which is a replacement for the old FX4 trim level. It's no Raptor rival, but the Expedition Timberline comes with 10.6 inches of ground clearance, 33-inch all-terrain tires, skid plates, and the Bronco's Trail Turn Assist feature. It also makes plenty of power, cranking out 440 hp from a twin-turbocharged V6.
As long as the Timberline's selling well, why not push the envelope even further and offer a full-on Raptor version? The F-150 and Bronco Raptors have been popular enough that there are probably a good number of people who would be willing to pay extra to get the Raptor badge on their family SUV. It would definitely be expensive, though. The Expedition already starts north of $55,000, and it wouldn't be surprising to see an Expedition Raptor start within spitting distance of $100,000.
We reached out to a Ford rep to see if there was any truth to this rumor, but as of the time this was published, they have yet to get back to us. If they do, we'll update this post accordingly.