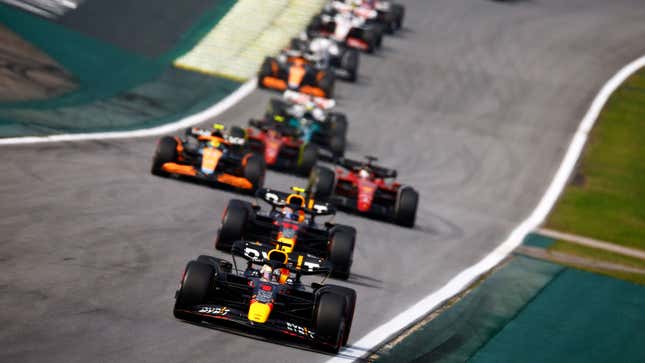 Love it or hate it, the new season of Drive to Survive is almost here. Once again, it's promising all the drama of a Formula 1 season condensed into ten episodes that race fans will probably binge in an afternoon. It hits Netflix next week and if early reviews are anything to go by, it sounds like the scrappy side of the sport is coming to the fore this year.

For anyone out of the loop, Drive to Survive is a fly-on-the-wall Netflix show that takes sport fans inside the Formula 1 paddock. It first launched back in 2019 and has gone from strength to strength every year with all its drama and sass from F1's biggest teams, drivers and personalities.
It has built stars, like Haas boss Guenther Steiner, and even tried to paint the son of an oligarch as an underdog. It's truly scintillating TV, and its fifth season will hit our screens next week bringing us all the highs and lows of the 2022 F1 season.
Early reviews for the series have started trickling in, just as Netflix released a new trailer and confirmed the episode titles for the 10 shows this the series. And, from the sounds of it, the gloves are coming off this year.
There is, of course, the usual feuding between Red Bull boss Christian Horner and Mercedes team principle Toto Wolff. The pair's bickering has been a staple of the show, and this year looks to be no different. According to The Metro:
"In the episode 'Bounce Back' we see this altercation in all its glory, with Wolff saying: 'I can tell you, that all of you are playing a dangerous game.

"Red Bull's Christian Horner, whose feud with Wolff has been well-documented, doesn't take too kindly to these threats, firing back with: 'Toto, if you've got a problem change your f***ing car,' and even suggests that the film crew leave the room before things really kick-off."
Spicy stuff.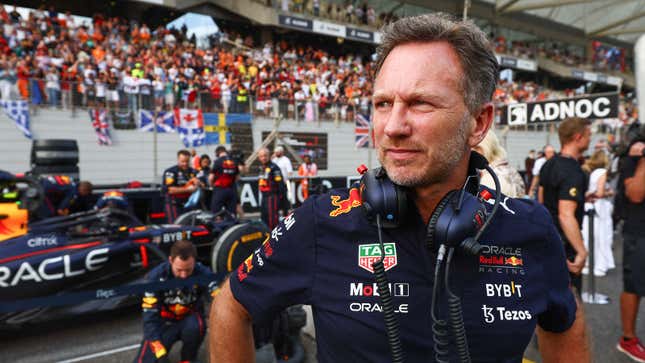 There's further Horner sass in an episode focussing on his team's cost-cap breach, which will see it take financial and development penalties this year. That episode, called 'Over the Limit,' sees the Red Bull boss proclaim that he "doesn't need friends," according to The Metro.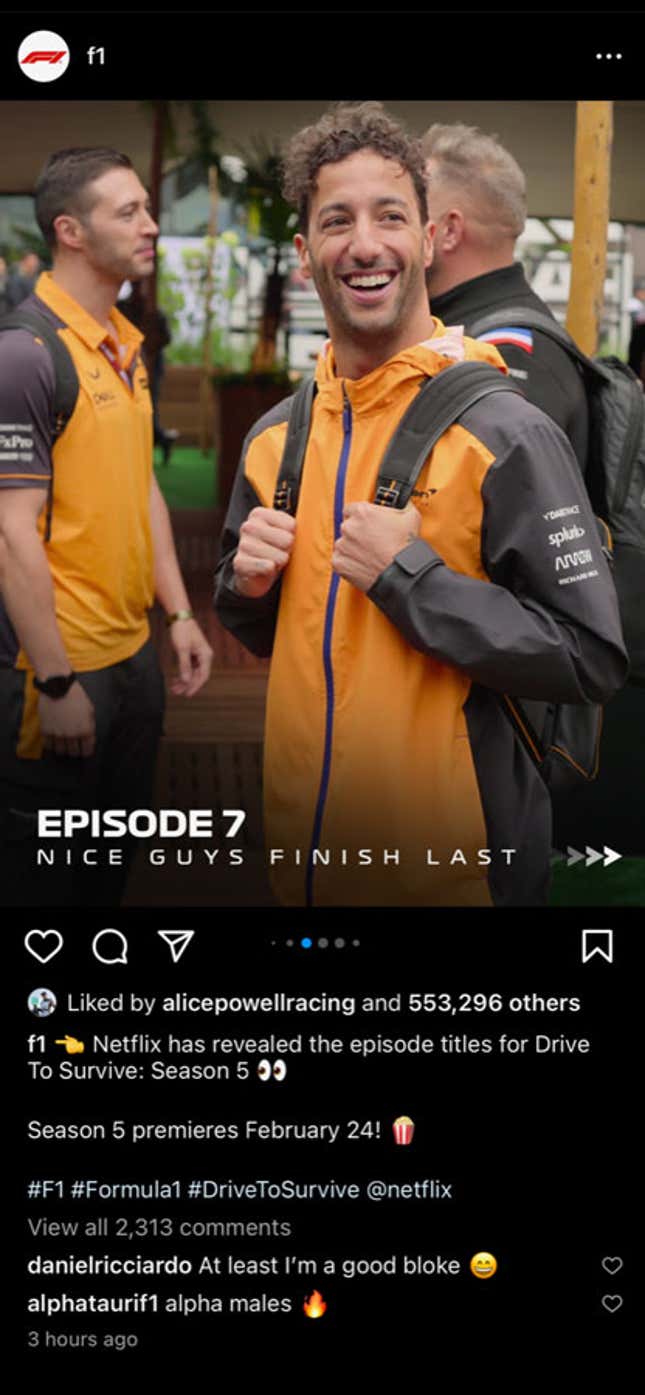 Crash reports that the other eight episode names include The New Dawn; Like Father, Like Son; Matter of Principal; Hot Seat; Pardon my French; Nice Guys Finish Last; Alpha Male and End of the Road.
One episode has already sparked a comment from ex-McLaren driver Daniel Ricciardo, who took to Instagram to let fans know that at least he now knows he's "a good bloke." That's in reference to Nice Guys Finish last, which focuses on his firing from McLaren and the way team boss Zak Brown handled the whole situation.
According to The Metro, in the episode Ricciardo is seen speaking with "an unnamed journalist" about where he might end up once it was revealed that Brown had signed Piastri to the team for 2023.
At the end of the conversation, the two men "embrace, with the journalist muttering under his breath: 'I told you not to trust Zac'." Drama!
Rumors are swirling that it might not actually be a journalist that Ricciardo is chatting with here, and instead is ex-Renault team principal Cyril Abiteboul. The Frenchman was another star of earlier seasons of the show, and partnered with Ricciardo during his time racing for Renault in 2019 and 2020.
As well as the obligatory Ricciardo drama, this season of Drive to Survive is also expected to touch on the fallout from McLaren's signing of Australian rookie Oscar Piastri, and the unfortunate year faced by Haas racer Mick Schumacher.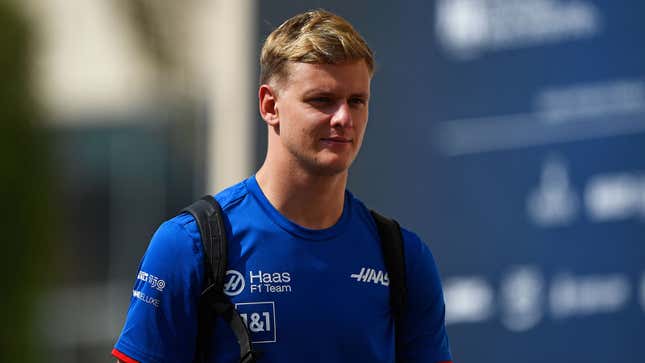 As always, it's sure to make for gripping and, probably, divisive viewing while we unpick the exaggerated storylines, fake commentary and questionable insights, such as "In Formula 1, if you finish in first position… you will win the race."
I for one can't wait to watch the show when it airs next week. And it'll probably leave me in need of some emotional support over the loss of Ricciardo yet again. But as Nicole Kidman says, "heartbreak feels good in a place like this."