Now that Dodge is set to launch updated and faster versions of the Challenger and Charger Hellcat, you may not realize that you can score a 707 horsepower monster for less than a loaded minivan.
Remember back in 2015 when the Challenger and Charger Hellcats were one of the most hyped cars on the market? Those were good times, my friends. Well, the country is different now and since it's hard to find joy in the world you might as well fill that void with horsepower, lots and lots of glorious horsepower.
Perhaps you are in the market for a family car and came to the conclusion that a minivan will be the vehicle. Normally I would wholeheartedly support this venture, but because I'm stuck with two crazy kids all summer, I think it's time to drop some irresponsible car buying advice on parents looking for a new ride.

The new Chrysler Pacifica might be the nicest minivans you can buy and you can even get it in the environmentally responsible hybrid model. Fully loaded versions of either can easily reach $50,000 or more, but there may be a better way.
G/O Media may get a commission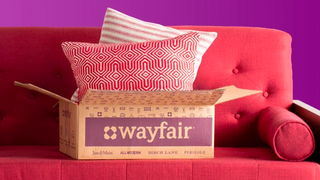 Big deals
Wayfair Surplus Sale
Right now there are a number of used Challenger and Charger Hellcats on the used market in the $45,000 - $50,000 price range.
And these aren't all high mile cars that have beaten to death either. Many of them have fewer than 15,000 miles. The Challenger is a reasonable family car too, it has a huge trunk and comfortable back seat. It doesn't have things like rear seat entertainment, but you can do burnouts, and that is some wholesome family fun right there.

So if you must get something with a bit more practicality you can find a Charger Hellcat that has an extra pair of doors for easier access. Though inventory is not as plentiful.

Of course, there are minor issues like "safety features", and "gas mileage" to consider when comparing your minivan to a muscle machine, but I think we can all agree that the age of rational thought is over. Might as well enjoy the drive.