In a part of the Bible almost surely ripped out by a brigade of executives at car companies as to not hint at our sad future, the fifth horseman of the apocalypse rides up in a Ford Edge ST, an on-road automatic SUV with a performance badge on it. But not in Europe. Europe has been spared.
Not every car buyer there is a crossover-crazed monster yet, so Ford won't be bringing its ST SUVs over to the land of fast hatches and wagons, per an interview with Autocar.

In the past few months, Ford has done a few things: announced that the Edge crossover and its eight-speed automatic transmission will get an ST version, once a symbol that car enthusiasts could see on a hot hatch and do a nice fist-to-chest bump in appreciation of; said that it'll phase out all cars and sedans in North America except for the Mustang and Focus Active "mini crossover" over the next few years; and said it'll expand the ST SUVs with the Ford Explorer.
But Europe won't be so unlucky. Ford UK boss Andy Barratt told Autocar that the company won't bring ST-badged SUVs to Europe because of demand.
He doesn't see that plan changing, either. From Autocar:
Explaining why the US market is getting an Edge ST, which is powered by a 2.7-litre V6 Ecoboost engine making around 330bhp, Barratt said: "All our research shows buyers want a combination of the sporty ST styling with a more luxurious feel to it, from the interior finish to the engine package." [...]

"The customer will always have the casting vote. If the demand is there, it is unlikely we'll resist it," he said. "But we already have plenty of evidence that ST-Line is the way to go. The Kuga (above) has led the way on this and the Fiesta is following suit. Customers are stepping up from Zetec trims and that's good business."
G/O Media may get a commission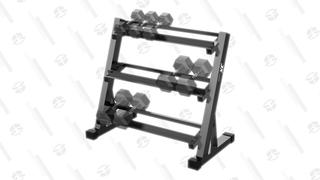 20% Off
JX Fitness Dumbbell Rack
Gains but tidy
Has a three-tier design to help store more weights more conveniently, can safely support up to 1000lbs of weight, which should be enough for most people, has a triangle base for stability, and also features anti-scratch feet which is great if you've built your own studio or workout in your garage.
When Ford announced in January that it would put an ST badge on the Edge, it felt like betrayal. Sure, there are cars like the 707-horsepower, $85,900 Jeep Grand Cherokee Trackhawk and Lamborghini Urus SUV these days, but the ST badge felt safe. It felt nice. In a world of crossovers and SUVs, it felt true to cars.
Not anymore. Get ready for the age of the "cars are just a means to get from A to B" and "I need more space and a higher ride" people going to a dealership and picking out a Ford ST because it's got a little more power and looks sporty. Get ready to drive around and see little red insignias on people haulers, as you feel nostalgic tears swell toward the outer rims of your eyes and pieces of your soul turning into lifeless dust as you look around and see the cars disappearing.
Except not in Europe, because there's still hope in Europe.