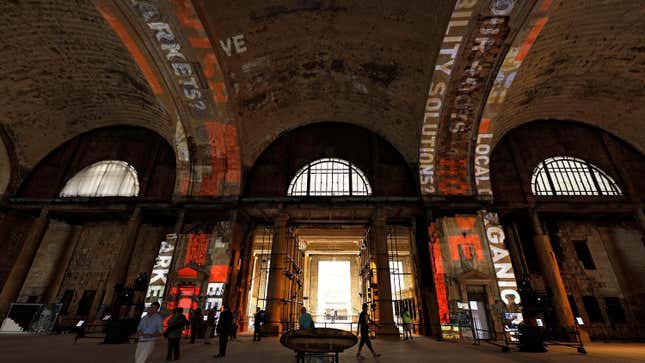 The Ford Motor Company is opening a newly rehabilitated building Tuesday as part of a larger project to bring life, and jobs, back to one of Detroit's most recognizable landmarks.
Michigan Central Station opened in 1913 when Detroit was already established as the booming heart of the America auto industry. The gorgeous building, as well as several buildings surrounding the towering train station, were designed by American architect Albert Kahn who penned many of the art deco skyscrapers that still stand downtown to this day, as well as a few buildings in Henry Ford's jungle city Fordlandia.
The building Ford will open to the public Tuesday is called the Book Depository building. Just across the street from Michigan Central Station and once known as the Roosevelt Warehouse, this Kahn building was famous for decades among urban explorers for the trees that grew out of piles of destroyed Detroit Public School textbooks.
Today, the Book Depository building looks very different. Called NewLab, the space will serve as office space for all sort of automotive startup companies dedicated to transportation research in everything from autonomous technology to air pollution monitoring. Ford hopes it will be a new tech breeding ground to show Silicon Valley how transportation gets done. The Michigan Central Station itself is slated to open next year. You can actually watch a livestream of the grand unveiling of the space here.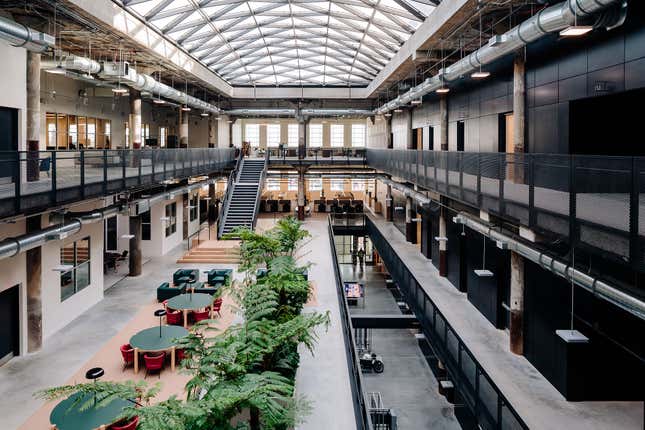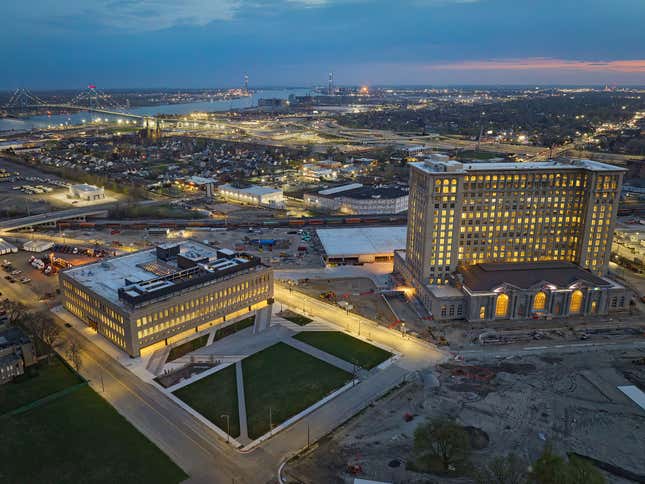 Ford is honestly to be commended for its work on the train station. The beautiful building stood as a faded monument to the worst of times in the city for decades, and seeing it not only revived, but filled with industry looking towards to future, is inspiring. However, some outlets, such as Wired, are painting Ford's project as a single-handed attempt to save the city. But historically that's not a great go-to narrative for the city or Ford itself.

When Ford bought the long-abandoned 30-acre Michigan Central Station in 2018, Detroit was already in the middle of a new surge of investment and improvements—at least for middle- and upper-class residents. The billion-dollar music scene continued to explode and draw people into the hip neighborhoods of Corktown, Downtown and Midtown. The home loan giant Quicken Loans made a home for itself in the heart of the city and slowly the empty storefronts lining downtown filled with restaurants and shopping, even attracting high-end brands like Gucci and Greyson Clothiers. Literally crumbling hotels from Detroit's golden age were already rehabbed or being being rehabbed back to their former glory in 2018.
As a Detroiter (my great-grandfather was a ticket-taker at that station for nearly two decades) I can tell you the storyline of a single paternalistic corporate savior is exactly what got us into the mess of declining population and empty buildings in the first place. Detroit was never dead; it's always had people who work hard to support their home. It certainly doesn't need to be revived only to rely on one single industry or company again.