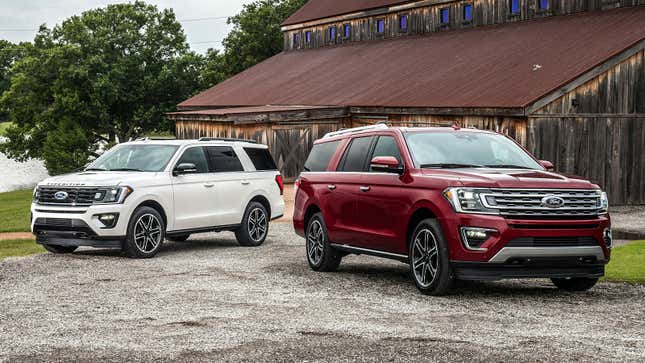 Ford is recalling 39,013 model-year 2021 Ford Expedition and Lincoln Navigator SUVs due to a risk of fire, the manufacturer announced Thursday. The cause hasn't been determined yet, but the automaker says 16 fires have been reported among affected vehicles  so far — the majority of which occurred while the full-size SUVs were parked with the engine off.

The vehicles covered in this recall were all manufactured between December 1, 2020 and April 30, 2021, per a statement from the automaker. According to Ford, the fires are believed to originate near the back of the engine compartment, on the passenger side. As engineers are still looking into the issue, the company is advising owners of affected Expeditions and Navigators to park outside, far from any buildings for the time being. However, Ford says owners can safely continue driving their affected vehicles. From Ford:
"We are working around-the-clock to determine the root cause of this issue and subsequent remedy so that customers can continue to enjoy using their vehicles" said Jeffrey Marentic, General Manager, Ford Passenger Vehicles. "We recognize the importance of staying in touch with our customers until we resolve this matter."
Of the fires that have been reported so far, 14 vehicles belonged to rental companies, while two belonged to private owners. Twelve of the fires happened when the vehicle was parked with the engine off; one occurred while a vehicle was parked but running; and three fires occurred while driving.
Ford says it's addressing this concern with "a high sense of urgency." Owners will be contacted by mail or through the automaker's connected-car apps — FordPass or Lincoln Way.
Recalls due to fire risk have been in the news lately. BMW announced a campaign in March that affected almost a million cars globally, due to an engine ventilation issue. General Motors also temporarily stopped manufacturing the Chevrolet Bolt EV due to faulty batteries supplied by LG that led to thermal runaways in 16 cases. That recall involved the installation of new battery modules in every Bolt — 140,000 vehicles in total — and cost GM $1 billion when all was said and done.

Want to check if your vehicle is affected by an open recall? The National Highway Traffic Safety Administration has an easy, quick way to check your car. Learn all about it here.