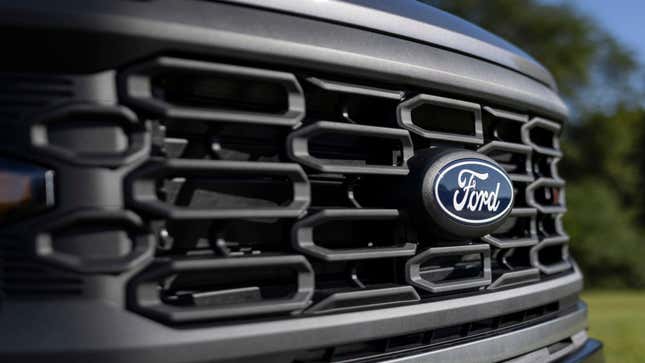 Ford just revealed the 2024 F-150, and while it's not the most extensive mid-cycle refresh that we've ever seen, the new F-150 now includes the 2.7-liter turbocharged V6 as standard instead of the old 3.3-liter naturally aspirated V6. Plus there's a fancy new tailgate with a little door built into it that Ford says should be more convenient for owners, an optional modular grille and new shocks for the Raptor. But if you look closely, you may also notice that the Ford logo on the front is ever so slightly different.
Ford didn't officially announce the update to the Blue Oval, but Ford's senior designer for colors and materials, Rob Brancheau did confirm to Car and Driver that the logo has been changed. That said, it's not a drastic update, and we wouldn't be surprised if hardly anyone notices without having it pointed out to them first. As you can see below, the old logo spelled out "Ford" in silver and included a chrome surround.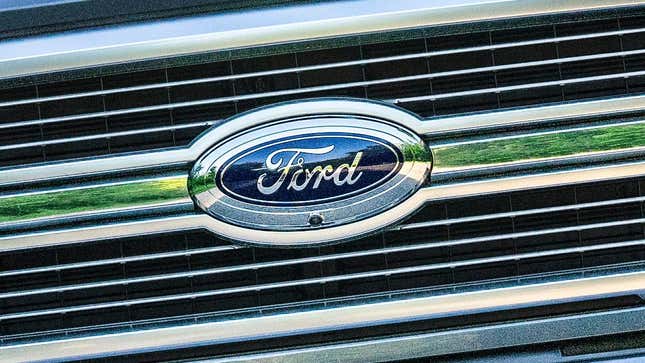 In contrast, the new logo spells out "Ford" in white and drops the chrome in favor of a simple white oval. The text is also slightly larger, and it appears the blue used in the famous Blue Oval is flatter than before. Presumably, the new design will eventually make its way onto all new Fords, but it's not clear at this time if it will be a slow process and only change when Ford redesigns or refreshes a vehicle or if there will be an across-the-board rollout.
Either way, there you go. That's the new Blue Oval. Basically the same as before but just different enough. We're sure all your friends and family can't wait to hear about it.