If you've always wanted an easy way to turn your pickup truck into an outdoor movie theater, a new Ford patent involving mounts for a screen, speakers, and projector, proposes just that. Check out this incredibly simple idea.
Titled "Portable entertainment support system for a pickup truck box," the patent, which Ford filed in Aug. 2017 and which was published earlier this year, actually looks extremely basic. It involves two horizontal, telescoping steel or aluminum arms stretching between, and mounted to, the two inside walls of a truck box, but spaced apart in the fore-aft direction.
To one of the horizontal arms—the one closest to the cab—there's a telescoping arm attached, which points straight up. And to that vertical arm, there's a horizontal arm to which a projector screen can be fastened as shown below:
Mounted perpendicularly to the other horizontal arm stretching between the inside walls of the bedside—the one farthest from the cab—are speakers a projector:

G/O Media may get a commission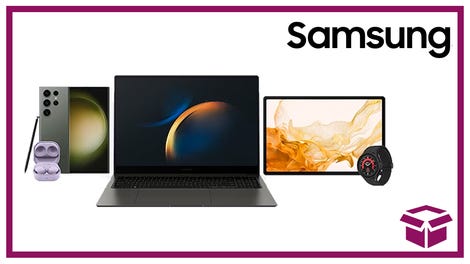 24 hour deals
Discover Samsung - Daily Deal
Both lower horizontal arms mount to the inside walls of the truck box by hooking to an "interface plate" receptacle like this one:

Here's how it would look without the video or audio equipment attached:

And here's how it might look while in use from the top:
In the "background" section of the filing, Ford describes the whole point of all this, writing:
Some truck owners customize the pickup truck box to provide convenient interface points for tie downs that are used to secure tools, motorcycles, recreation vehicles, containers, or other cargo. Some pickup truck owners may drill holes in the pickup truck box or use existing holes or other structural features such as edge flanges or the top end of the bed wall to provide interface points for accessories. Drilling holes in a pickup truck box may increase the extent of corrosion, disrupt the integrity, and reduce the strength of the structure. Using existing structural features to secure objects to a pickup truck box may not meet all of a user's needs and requirements.
The exact parts shown in this patent, Ford writes, are "merely examples," and other versions of this idea could look different. This is an important point, because—even though the idea of bed-mounted receptacles for fastening accessories is a fine enough idea—I wouldn't consider these metal beams holding audio and video equipment particularly elegant.
h/t: It's Not That Simple