There will be a new Ford Focus next year, and for now we can also enjoy the Fiesta and Fusion at our leisure. But will any of these cars be sold in the U.S. after 2018? The way things are going, that feels more in doubt than ever.
That's according to The New York Times, which took a deep look on Tuesday into new Ford CEO Jim Hackett's ongoing reorganization of the company. Ford, which made an 8 percent profit margin in North America last year, just isn't making enough money, you see, especially compared to GM, which made a 10.7 percent profit margin in the same year.
Hackett's plan is simplification of the company as a whole, which could mean shedding loose some overseas businesses but also, maybe, stopping selling the Fusion, Focus, and Fiesta in the U.S. Amid the current SUV sales explosion, small and midsize cars just aren't selling well, or even making money.
Here's the NYT:
Shrinking or selling unprofitable foreign operations could also be part of the new strategy, the three people said, and the company is also discussing whether to continue selling small and midsize cars in the domestic market. Ford currently loses money on the Fiesta, Focus and the Fusion sedan, they said.
G/O Media may get a commission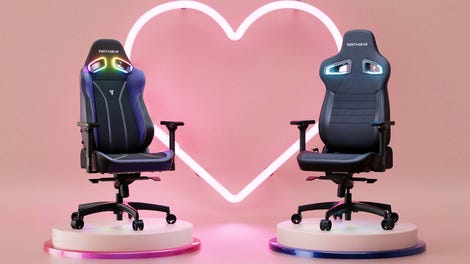 Up to $150 off
Vertagear Gaming Chairs
When will we know for sure? Possibly as soon as tomorrow, when Ford reports its first-quarter earnings, though more likely later this year.
Ford is due to report its first-quarter earnings on Wednesday and is expected to offer some new information about cost-cutting. But investors probably won't see a full-blown turnaround plan until September, three people familiar with the matter said.
An interesting thread in all of this is that investors are finally getting a bit fed up with automakers' tradition of working in secret. "We can't comment on future product" has long been the gospel in the auto industry, largely for competitive reasons, though trend-crazy Wall Street and its love of high-tech "disruptors" doesn't much care about that. And with the rise of new competitors like Tesla, it's also becoming increasingly anachronistic.
The lack of detail has frustrated Wall Street analysts, and the tension spilled into the open during a conference call in January. In the call, Mr. Hackett noted that Ford was working on six efficiency initiatives but offered no specifics.

"When are we going to know these six?" Adam Jonas of Morgan Stanley asked. "Because I asked you a pretty straightforward question. You're alluding to the six in your slides. You're clearly not willing to talk about them." Then, with a tone of exasperation rarely heard in such calls, Mr. Jonas added, "That's a problem, Jim."
Brad Carroll, a spokesman for Ford, gave me this comment:
The entire company is intensely focused on improving the operational fitness of the business to deliver profitable growth with improved returns, while building toward our vision of the future.
A Ford future that doesn't include the Fusion, Fiesta, or Focus would be admittedly pretty weird, though a car that isn't making money is a car that isn't making money. Indeed, the Fusion was due for a redesign, and now it isn't even getting that.
It would also be a sad concession to America and to the future, which is too big for a Ford Fiesta, and also apparently too big for a dang Fusion. Ford still competes with automakers like Honda, Toyota and Hyundai, and none of them are giving up the small and midsize game, even if they're experiencing some headaches there.
America refuses to go on a diet when it comes to big autos; Ford's taking a long hard look at its books and is thinking about raising the white flag.
Update: I added a comment from Ford.