Electric cars, electric cars, electric cars!!!!!!!!! And also, Nissan lost a bunch of money. This is the Morning Shift for April 24, 2019.

1st Gear: Okay, I'd Say Rivian Is Now Officially a Contender
There are tons of automotive startups bubbling up from the froth of capitalism at all times. Most of them, you've never heard of, and never will hear of. Some make it big, like Tesla, and some are this startup I heard of last night that wants to make self-driving cars, but for old people.
More often than not, the deciding factor is just how much money is behind the company, and where that money is coming from. Has your CEO been accused of setting up "hundreds of shell companies" to "escape debts?" Or is your backing coming from established giants with grotesquely deep pockets, like Amazon?
Rivian's the one with backing from Amazon, in case you hadn't figured it out. And now it's got a huge investment from Ford as well (via Reuters):
U.S. electric pickup truck startup Rivian Automotive LLC said on Wednesday that Ford Motor Co invested $500 million in the company, which is seen as one of the major rivals to Tesla Inc.

G/O Media may get a commission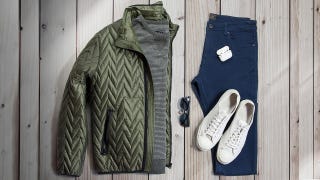 60% off
Jachs NY Fall Sale 60% Off
That's great news for Rivian, as by our count it has had at least $1.2 billion shoved into it in order to bring its brawny electric pickup and SUV to life.
On the other hand, it's not nearly enough. Just developing a new car with an internal combustion engine can cost established automakers around a billion dollars. Building an entire car company from scratch – not just the car, or the platform, or even the factory, but hiring a whole human resources department and making sure no taxes are ever paid, basic "corporation stuff" – will take multiple billions.
Just ask Tesla, which everyone still watches with bated breath despite "making it big." Making cars is hard.
But like I said, a ton of money from sources like Amazon and Ford helps.
Let's talk about that Ford investment, specifically, however. On the one hand, Rivian obviously gets a ton of money, and probably some expertise as well from the company's that been building automobiles for over a century. On the other hand, what's Ford getting out of it? I mean, it's already developing an all-electric F-150 pickup of its own, which one would imagine would compete directly with the Rivian R1T pickup.
Well here's one of Ford's main spokesmen, Mike Levine, on Twitter:
With this little statement, we can learn a hell of a lot through the tea leaves. None of this is really cold hard "fact," but it does help educate our guesses a bit. The first is that we may be getting further confirmation that the electric F-150 will still be built on a platform that is essentially adapted from an internal combustion-engine basis.
The reason why that's a big deal is that a ton of things about the vehicle, even its shape, are dependent on the platform, especially electric cars, much like ships change depending on their use of sails or diesel. Piston engines take up a lot of space, and for pickup trucks especially, they tend to be placed in the front, with a driveshaft running the length of the vehicle to deliver the power to the wheels. They also need a fuel tank, to store all that liquid goodness.
Something designed for electricity from the ground up, however, is a bit different. Instead of one big fuel tank, the batteries which store the electric "fuel" can be arranged in a big flat pancake, and the comparatively small electric motors can be placed strategically near the driven wheels.
The advantage to designing an electric car from the ground up, as opposed to adapting it from a platform essentially designed around a piston engine, is huge. On an adapted platform, the batteries don't line the floor, and it's harder to place the electric motors where things like driveshafts and differentials would be, so everything tends to get dumped under the traditional "hood." But by going with a "skateboard" or "pancake" design, there are massive advantages in not only packaging (important for maximizing utilitarian cargo space on a pickup truck especially), but range as well.
With the battery cells spread out, a car can have more of them. And more battery cells mean more range, and often more power.
The downside is that thus far, it's easier to adapt an ICE car to be an electric car, rather than somehow shoehorning a gasoline engine into an electric car. People REALLY love the Ford F-150, and since it makes Ford so much money, Ford probably doesn't want to screw with it by making it all-electric only.
So an all-electric F-150 will likely for the most part be the F-150 people all know and love, except electric. But because it'll be on an adapted platform, it won't be optimized for electricity.
On the other hand, the R1T will have those benefits of range and packaging, but it's a risk. Who the hell has ever heard of a "Rivian," anyway?
In this deal, Ford gets the benefits of getting an all-electric platform developed by someone else, without nearly as much of the risk. And Rivian gets a bunch of money and expertise. It's a win-win for both parties.
The only one who loses out in this deal is, of course, General Motors. It was supposedly very close to investing in Rivian instead of Ford, but then that deal fell apart.
But hey, at least Rivian gets to keep disguising its trucks as Ford F-150s with impunity.
2nd Gear: The Guy Behind the Tesla Model S Is Now in Charge of Lucid
Maybe you don't have Ford money to catch up to Tesla's magic. But if you're an electric car startup, you can at least hire away some of Tesla's magic. That's what Lucid is doing, putting the guy who was largely responsible for the engineering behind the Tesla Model S in charge of the whole shebang, Bloomberg reports:
Lucid Motors Inc., the electric-car startup funded by Saudi Arabia's sovereign wealth fund, promoted its chief technology officer to the top job following co-founder Sam Weng's retirement as CEO.

Peter Rawlinson, who was chief engineer of the Model S when he worked for Tesla Inc., has long been the public face of Lucid, which plans to build electric sedans in 2020 at a factory in Arizona. A lack of funding delayed those efforts until Saudi Arabia's Public Investment Fund invested more than $1 billion in a deal closed earlier this month.

And if you think Amazon's endless coffers are grotesque, just wait until you hear about the Saudi sovereign wealth fund.
3rd Gear: BMW Is Trying To Avoid Using Children To Build Electric Cars
Building electric cars is hard, as we've established, but it's even harder if people find out you're using children to build them. That's why BMW is trying to avoid that particular nightmare scenario, according to Reuters:
German carmaker BMW will buy cobalt, a key component for electric vehicle (EV) batteries, directly from mines in Australia and Morocco to ensure they are not produced by child labor, an executive said on Tuesday.

The announcement came as the London Metal Exchange (LME) launched an initiative under which it could ban or delist brands that are not responsibly sourced by 2022 to help root out metal tainted by child labor or corruption.

We laud BMW for this development, which is much better than its previous labor practices.
4th Gear: It's a Rebuilding Period for Nissan, Apparently
Nissan is having a rough go of it in the wake of the ongoing Carlos Ghosn scandal, Reuters says:
Nissan Motor Co slashed its full-year profit forecast to its lowest in nearly a decade due to weakness in the United States, just as it adjusts to life without Carlos Ghosn and charts its future with alliance partner Renault SA.

The Japanese automaker expects operating profit for the year ended March to drop 45 percent versus a year earlier to 318 billion yen ($2.84 billion), from a previous forecast for 450 billion yen, on expenses related to extending vehicle warranties in the United States, its biggest market.

Nissan also blamed the arrest of former Chairman Ghosn for tarnishing its brand and contributing to the decline in profit to the lowest since the year ended March 2010.

When it rains, it pours.
5th Gear: All the UAW Needs Is Tchotchkes, Allegedly
To buy off some union heavies, all you need is some union swag and trinkets, according to the Detroit News:
Federal agents are investigating whether leaders of the United Auto Workers received kickbacks after giving business executives contracts to produce union-branded clothes and trinkets, four sources told The Detroit News.

Approximately 10 promotions company executives have been subpoenaed to produce documents sought by a federal grand jury, two sources told The News. The subpoenas mark another phase of a federal corruption investigation and could lead to more criminal charges in a case that has yielded eight convictions, including former vice presidents of the UAW and Fiat Chrysler Automobiles.

In fairness, I've been dreaming of a satin Jalopnik WGAE Local No. 1 jacket. Real old school. Holler at your boy if you've got one.
On this day in 1918 the Second Battle of Villers-Bretonneuz began near Amiens in northern France during World War One. This battle is notable because it is recorded as the first conflict in which a tank-versus-tank fight occurred during war.

Neutral: Rivian R1T Or Ford F-150?
I'd take the Rivian.