Despite being rebuked by the people of New York City for an office nobody wanted, Amazon doesn't seem to be feeling too bad. It's moved on to Rivian, leading a $700 million investment round into the startup electric truck maker.
From CNBC:
The round included investments from Rivian's existing shareholders. It will remain an independent company. Rivian currently has more than 750 employees located in several locations, including Plymouth, Michigan; San Jose and Irvine, California; Normal, Illinois; and Surrey, England.

The big funding round came on the heels of a Reuters report predicting the Amazon investment, but it also said that General Motors was going to make a big push into Rivian as well, which has not yet materialized. Maybe GM is just waiting for the Amazon news to dissipate.
G/O Media may get a commission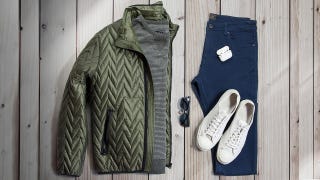 60% off
Jachs NY Fall Sale 60% Off
Before you ask, it's still a little unclear how much of that $700 million figure was from Amazon, and since Rivian is still privately owned (even if now, in large part, by a publicly-traded company) we still don't know how big Amazon's stake is. And all of this valuation stuff is a bit of voodoo as well. Is Rivian the next Tesla, with a market valuation of over $50 billion? Or is it the next Faraday Future, which is mostly a sad mess at the moment?
With Rivian yet to churn out a drivable car to the public, it's hard to say. But developing an entirely new car from scratch is not a cheap proposition – it takes billions of dollars just to develop a single car from the ground up, let alone an entire company. And it's hard to say what Amazon would want with electric cars, if you think of Amazon solely as a supply chain and retail enterprise that exists to crush the spirits and bathroom breaks of its workers. But it's also got its tendrils into all sorts of non-Amazon-y things, from Amazon Prime streaming, to Amazon Web Services (pretty much every website in the world is on AWS these days), to Whole Foods. It's pretty much what General Electric once was, just as soon as it starts making nuclear power plants and jet engines.
But let's talk about the cars for a second. Rivian aims to launch a full-size SUV, dubbed the Rivian R1S, and a pickup truck, dubbed the Rivian R1T, next year, though that does sound a bit ambitious. Both aim to get about 400 miles on a single tank of electricity stored in an electric skateboard chassis, and despite being big beef boys, they aim to scoot to highway speeds in about three seconds. Yeah, that sort of thing used to be ambitious as well, but the Tesla Model X.
And while "ambitious" tends to be a euphemism for "never gonna happen," with Amazon backing, Rivian is looking a lot more like the real deal.