Teddy Roosevelt was once quoted as saying speak softly and carry a big stick. Antithetically, the V12 in today's Nice Price or Crack Pipe BMW 850i speaks loudly, and it carries a 6-speed stick.
It was claimed to be must see! by its seller, and a 68% of you felt yesterday's 1969 AMX was worth a look, securing it a Nice Price win. That car's shortened wheelbase and sports car bona fides caused AMC to toss out any pretense of a back seat, opting instead for a vast, lumpy field of low-pile. That may have been the prudent route for today's contender as well because, while it has back seats, they're more conversation-starters than actual functioning butt-buckets.
Regardless of how useless the backs are, it's up front where you'll get the most entertainment value out of this 1992 BMW 850i. That's because there's plenty of room for you and your favorite co-pilot behind the sweeping, chicklet button-heavy dash. Unlike the interior of that AMX, which couldn't decide which shade of brown it wanted to be, this beige over. . . even more beige cockpit is just as two-tonerific as it was when it left the factory. Between the lightly bolstered leather thrones is your grandpa's massive, hard-wired cell phone. Just ahead of that, and falling immediately to one's right hand, is the fat knob that connects to the Getrag 560G 6-speed transmission. This was relatively rare in the 850i, and helps to get all 296 of the M70's horses to the ground. That 4,988-cc V12 speeds the 3,946-lb coupe to 60 in six and a half seconds, and like Michael Caine's screen presence, It does so with an unflappable smoothness.
G/O Media may get a commission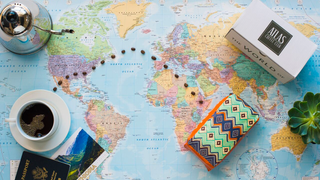 First Bag Free
Atlas Coffee Club - Free Coffee
Explore global coffee
With each bag, Atlas includes details on the coffee's tasting notes and a postcard about the region and its coffee history. And when you subscribe, you have options to tailor frequency, grind size, and roast preference of your beans, so you'll always be brewing the perfect cup.
The M70 sits under a sloping hood that is reminiscent of both the M1 super car and the 1972 Turbo concept. Pop-up lights and a pillar-less greenhouse are notable styling features of the car, as are the ginormous bi-level taillights which cut into the trunk opening. On this car, it looks like there's something amiss with the passenger-side front fender, as it's standing a little too far out from the bumper cap. Other than that, the exterior, in deep blue, looks pretty good. That's after a claimed 88,000 miles over its nearly 20 year life. Not making it that far is one of the dash computers ($$$$) which the seller claims doesn't work. The other one, he says, is still kicking.
Back when new, these cars commanded a nose bleed-worthy $110,000 price tag, securing their spot as BMW's halo car. Today, that halo is a bit less shiny and depreciation (a fact of life with bimmers) has taken its toll. This reasonably tidy and three-pedal equipped 850i has an asking price of $13,000. These early cars are not as desirable as the later - and even more complicated - 850CSi, and because of that, they command significantly lower entry costs. Despite that, they still rock the same sexy body.
What do you think of this car's entry cost? Is that thirteen grand too much to relive past glories, or is that the going rate for a German 12-pack?
You decide!
Queens Craigslist or go here if the ad disappears.
Help me out with NPOCP. Click here to send a me a tip, and remember to include your commenter handle.