Porsche's venerable 911 is lust-worthy on its own, but that hasn't stopped many an tuner from attempting to eke out even more of what the car has to offer. Today's Nice Price or Crack Pipe 1986 Carrera coupe has been RUF'd up, but is its price too RUF to handle?
German cars officially offered here in the U.S. by their makers are usually pretty heavily optioned out. After all, if you're going to make that long boat ride across the Atlantic, you want to dress for the event. That makes yesterday's Euro-spec Mercedes 300D, with its wind-up windows, manual transmission, and turbo-less five cylinder something of an anomaly here. Not only monastic in its accouterments, that Benz's price was considered by 55% of you sufficiently thrifty for it to drive slowly off with a Nice Price win, our third this week.
Today however, we're going for broke.
The great thing about Alois Ruf's name is the fun you can have with it, pronouncing it in the way a dog describes sandpaper, or - properly - like what's on top of your house. Even more fun is what his company does to Porsches. RUF is to Porsche what Wolfgang Puck is to frozen pizzas, packing more tasty performance into the cars than one might imagine possible. Founded in 1939 as a repair garage located in Pfaffenhausen Germany, RUF didn't gain international prominence until the late 1970s, after Alois Sr. had passed away and his heir began to focus the company's efforts almost exclusively on turning Porsches into Autobahn berserkers. The cars they produce are so extensively modified that the German government recognizes the company as a manufacturer in its own right.
G/O Media may get a commission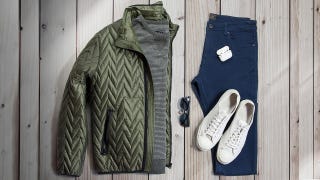 60% off
Jachs NY Fall Sale 60% Off
This RUF-ified 1986 911 was originally built for Audi Club of America founder, Frank Beddor, and was campaigned extensively by his wife, Marilyn. It has since passed hands twice, and is now ready to make someone its fourth owner. The car is basically a RUF CTR 1 (Group C Turbo Ruf), which starts with a stock Porsche 911 Coupe - either straight off the production line or a customer's car - and turns the wick up appreciably.
A discreet RUF badge tramp-stamping the engine cover identifies this as a 911 not to be trifled with. It features Turbo-look fat fenders front and rear, bespoke five-spoke 17" alloy wheels, an integrated roll cage, and adjustable coil-over suspension. This having been a customer car, some of the more extreme RUF body mods are missing, such as the de-guttering and fender-mount oil fill, but what's under the hood is all RUF and tumble. The air-cooled flat six has been embiggened by RUF from 3.2 litres to 3,367-ccs. Atop that sits not one but two turbos and a massive air-to-air intercooler. The seller claims that the manually adjustable boost can lift the engine to 650-bhp, which is fed forward through a specially-built 6-speed gearbox and then to the massively fat rear tires. Top speed on the factory CTR-1 was a claimed 211 miles per hour so future owners of this grand prix white beast should never have to worry about arriving anywhere late.
The car is said to have come out of a private collection, and to have been the recent recipient of nearly thirty grand worth of engine rebuild and overall fluffery. The condition of the car appears to be without fault, although the choice of snow white for much of the interior may be off-putting to those not living in Cleveland. Still, 5-point harnesses hugging high-back sport seats and a tidy three-spoke wheel make this a professional's command center.
Somebody will eventually get into that pilot's seat and that next owner buys not just this RUF's potentially brutal performance, GTFO looks, and Limited production significance, but its competitive history as well, and the seller says it comes with documentation of its runs at Pikes Peak, the Silver State Classic and One-Lap of America. Today it's in Florida, home to both Daytona and pretty much every wackadoodle automotive offering known to man.
This RUF is wacky in a good way, but its price may be seen as crazy depending on how much you value the car's provenance and appeal. Representing an entry into the rarefied air of exclusive manufacturer offerings, the $99,000 price tag may be more Mitt Romney than mass-market, but even if you and I can't afford that - no seriously, together you, me and probably the next three commentors on this post likely couldn't scrape together that much without selling a Kidney, and I hear eBay frowns on that these days. But we can still judge whether we think that's a killer price, or one that kills the deal.
So, what do you think, is $99,000 a price that should put this RUF under somebody's roof? Or, is that Deutschland über priced?
You decide!
auto trader classics or go here if the ad disappears.
Help me out with NPOCP. Click here to send a me a fixed-price tip, and remember to include your commenter handle.