When You think of '93 VW Bus, today's Nice Price or Crack Pipe T2 is probably not what comes to mind. If you're from South America it sure does, and we'll have to see if this border-crossing bus comes with a price that you don't mind.
When I eventually go to sell my daily driver, I'll make some bank on it owing to its celebrity connection. You see, my daughter has ridden in it and she once met both Emma Stone and Ryan Gosling, whom she described as dreamy.
Okay, so that was an even more tenuous connection than yesterday's 1961 Chevy Corvair 500 that was said to have once been owned by the ex-wife of boxer Buster Douglas. It's hard to say whether the seller of that 'Vair was trying to add a couple grand to his asking based on that fighter connection, but we saw a full-on boxer rebellion to his price regardless. That ended up with a narrow but decisive 52-percent Crack Pipe loss for the little Chevy's price.
G/O Media may get a commission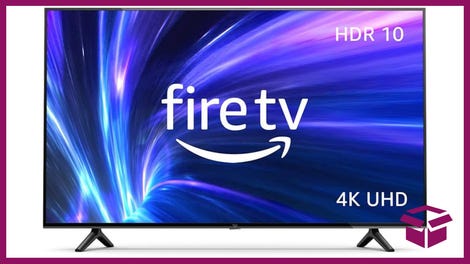 42% Off
Amazon Fire TV 50" 4K Smart TV
Think for a moment about Volkswagen's venerable Type 2. It was around for a long time, a fact laid bare in its model designation - "2" - meaning it was only the company's second model after the Beetle. That was in 1950, and the basic design—rear-engine, air-cooled, bug-eyed—lasted until 1979, when it was replaced by the boxier, and eventually wasserboxier Vanagon. That is though, except in Brazil, where it continued in production with minor annual improvements for another 35 years.
One of the big changes for the Bus in Brazil was also the adoption of water cooling necessitating the addition of a huge black plastic grille up front in place of the previous huge chrome metal VW emblem.
This 1993 VW T2 Kombi is just such a full Brazilian, and you'll note a few other distinctions that identify it as such. Those include an up-dated dash and steering wheel, a raised roof, and here on this one an 1,800-cc inline four. You also get manufacturer stickers on the engine lid for Mexico, which is where this Kombi most likely was sold. That mill is claimed rebuilt, however it looks kind of tired in the pics.
Still, looks can be deceiving, and the seller says the Kombi "runs like a champ" and has a "tight transmission." There's also the claim of it being free from rust and coming with a clean title. I guess that's possible seeing as it's just about 25 years old. California Bus aficionados will need to sit this one out, however.
The bodywork is straight and weird. That raised roof looks super funky, but it's right for the model. The front bumper is missing and the wheels and tires look kind of trashy. None of these issues should be deal killers though.
Inside, there's a pair of mouse fur seats up front, and behind those a pair of back seats that look like they've seen a lot of asses over the years.
The Bus is offered in Houston, and the seller lays claim to having driven it to El Paso and back so it's most likely road worthy. He's seemingly not enamored with taking another such trip in it and has put it up on the Craigslists (seriously, he's got it listed in Philly) at the asking price of $9,200.
The market for old T2s is for whatever reason pretty hot these days, and having one as oddball as this Brazilian edition might just add to its ardor. What do you think, does this Kombi seem like it could command that $9,200 price? Or, does this Brazilian just not engender much Latin love?
You decide!

Houston, TX Craigslist, or go here if the ad disappears.
H/T to onelung for the hookup!
Help me out with NPOCP. Click here to send a me a fixed-price tip, and remember to include your Kinja handle.