While not everybody will agree on who should run their particular country, I think all nationalities can get behind today's Nice Price or Crack Pipe Nissan President. That is of course, if this rare-in-the-U.S. JDM executive ride's price doesn't demand a recount.
Could it be true? Could the long cold winter of exile in our hearts for Porsche's 996 really be over? For the longest time the 996 was deemed the red-headed stepchild of the 911 clan owing to its too-close for comfort aesthetic association to the lower-caste Boxster and a rep for its water-cooled motor to inconveniently go tits-up.
That might have led you to believe that last Friday's 2000 Porsche 911 Carrera was doomed at any price, seeing as it was a 996 edition and, perhaps worse, owner-modded. Instead, it looks as if all is forgiven and that clean and mean 996 came away with a solid 60% Nice Price win for its asking price. Next up, teaching you to love the four-cylinder '80s Camaro.
G/O Media may get a commission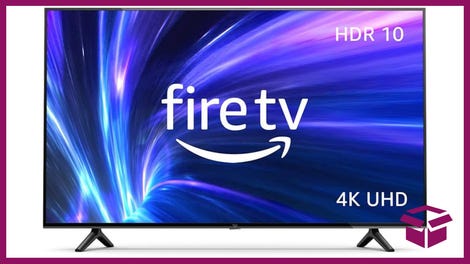 42% Off
Amazon Fire TV 50" 4K Smart TV
Before that however, it's President's Day here in the U.S.A. and that means we're balls to the wall throwing down the mad DAP for our dads of other lads, George Washington and Abraham Lincoln. It's particularly fitting that we recognize these two former presidents this year as the one that we have right now is not exactly living up to their reputations for honesty and sanguinity. We won't get into that here, instead we'll look at another President, this 1991 Nissan President.
The President was first introduced in Japan in 1965 as an exclusive ride for government bigwigs and titans of industry. The first models featured somewhat broom-up-the-ass styling that sort of looked like a cross between a Russian Volga and a Buick Electra. Perhaps the most remarkable thing about the early President was that it served from 1965 through 1989 on basically the same platform and with just one major styling and interior update, which happened in 1973.
After that though, the President went through a thorough redesign. That resulted in a new model (HG50) that for the first time ever was sold in America, albeit with some styling tweaks and a whole new name, the Infiniti Q45.
Now, those of you familiar with the U.S.-market Q45 will notice some substantial styling differences between that car and the home-market President. Mostly they're noticeable in the front, and the rear, and... well, the middle.
Up front where the Infiniti received narrow lamps and a belt buckle, the President rocks huge glass block headlamps, a stately grille, and a classy stand-up hood ornament. Out back it's different too, as the tail lights are fully separate on the Pres, rather than joined by a plastic filler as on the Q45.
And in the middle? Well, the President is a good six inches longer between the wheels than your standard Infiniti, and that's all back door territory. That makes room for grab handles on the seat backs, adjustable back seats, and a center console that does stuff.
Both the U.S. and home market cars were powered by Nissan's VH45DE V8, here in 4,493-ccs and 266-bhp form. The engine runs north-south but strangely the intake looks like it goes east-west. Weird.
Unsurprisingly for America, this President is white (yeah, yeah, yeah, cheap shot, I know). It also sports a grey leather interior with what's perhaps a little too much plastic for luxury tastes. This one also rocks some marvelous Persian rug floor mats that one would hope come with the car. The seller can keep the infinite turd steering wheel cover, however.
In the boot there's a pleasing rising sun motif vacuumed into the carpet so you'll always be reminded of the car's origin, at least until the next trip to the home center.
Both the exterior and interior look to be in fine shape with no major boogers or issues apparent. The black-painted alloys are a bit of a mis-cue, but that's somewhat made up for by the wonderful window eaves, and parking pole on the bumper.
There's 92,333 kilometers (about 58,000 miles) on the clock and the car is claimed to have been imported just this past fall. The ad notes that the import title work (25-year rule) has been completed. There has also been some work to make the President a little more presidential, including new tires all around, tie rod ends, battery and belt. It does have what looks to be aftermarket HID headlamps (the red wires and what look to be ballasts under the hood) but other than that it seems pretty stock and ready to carry you in presidential style.
Not only is this President unique, but here in the States its sister Q45 has seemingly long gone the way of Elvis. This is a prime opportunity to own something that will definitely stand out from the crowd, and it's only asking $8,500 to do so.
What's your take on this President and that $8,500 price? Does that combo get your vote, or is this one candidate that can't be bought?
You decide!

Denver CO Craigslist, or go here if the ad disappears.
Help me out with NPOCP. Click here to send a me a fixed-price tip, and remember to include your Kinja handle.