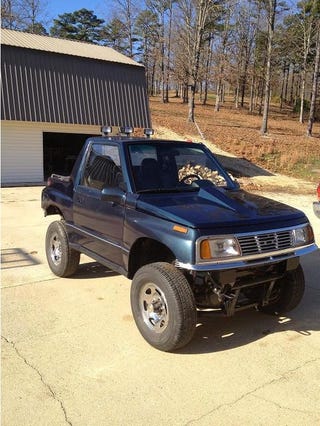 Nice Price Or Crack Pipe
Is this used car a good deal? You decide!
In the 1992 movie Sidekicks, an asthmatic kid learns karate in the hope of meeting his hero, Chuck Norris. Today's Nice Price or Crack Pipe Sidekick has an industrial diesel - which is likely pretty asthmatic as well - but will its price make it something even Chuck would kick to the side?
Applying custom paint and a BMW shnoze to an automatic transmission Honda Civic EX really seemed to you the epitome of lipstick on a porker, and in fact 90% of you deemed its modest sub-three grand price crackalicious because of that fact. Brutal.
Today's candidate is more expensive, but is also more thoroughly modified - which may be to both its benefit, and detriment. They say necessity is the mother of invention, however in the case of this industrial diesel-powered Suzuki Sidekick, you have to wonder if adoption wasn't an option.
The seller - who is also the shade tree wrench wielder of this truck - says that the project started with the melding of the hardtop Sidekick with a 68-pony diesel four manufactured by Isuzu. That's been installed - in his words - professionally, on top of a frame-off rebuild of the suspension to make everything fit. The stock Suzuki 5-speed manual, behind a new clutch, sends what little power there is to all four wheels through a set of new driveshafts, and the whole enchilada is said to be fully functional and tight as a drum.
I don't know what Isuzu engine that is - the seller claims it's a 4BT but that's a big-ass Cummins diesel which would have a hard time fitting under the Sidekick's diminutive hood, and would likely turn the frame into a pretzel with its monstrous torque. If you can ID it from the pics, let us know. It should also be considered whether your local DMV might take issue with this engine conversion, although the seller says it is registered and licensed in Missouri - and that is after all the show-me state.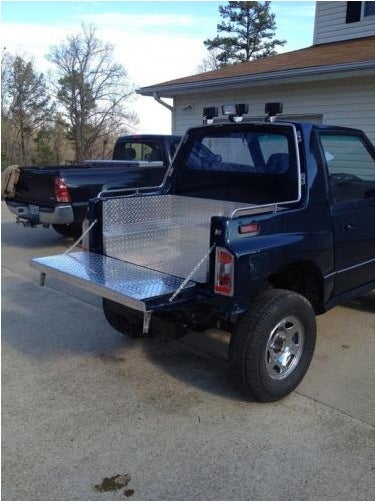 Another really cool part of this truck is the fact that the builder seems to have gone all Debeers on it and has covered much of the interior with diamond plate. That material also covers what is now an external bed - or shooting platform - the truck now taking on the appearance of a two-door mini LM002. Big-ass 28-inch tires look butch and raise a toast even without a lift kit, and the whole thing doesn't look as nucking futz as you might expect it to.
The party continues inside where the seller says everything from the seats to the stick shift is custom, although noting that the steering wheel is a Grant GT may lead you to wonder just what his definition of custom might be. Still, it all looks plenty complete and the hood-mounted gauges will make you feel like you're rocking a GTO Judge while bumping against this truck's 60-mph top end. That's a top speed that makes you consider if it might not be faster to get out and walk, although the diesel should pump out enough torque to make low speed rock hopping a lot of fun. And as it's apparently weather tight, your survival should you get stuck would not be as iffy as with last week's skeletal Range Rover.
This Suzuki is cheaper than that Brit as well, and while obviously not as capable off the tarmac, it would likely be a little more comfortable on trips to the grocery store for PBR replenishment. It's always a question why a builder decides to sell his project when - as in this case - it is only 90% complete. Maybe his interest has waned and the little bits left are seen as more work than pleasure, but regardless, this seller is asking $7,500 for his work so far. Hilariously, while he will entertain trades in lieu of cash, he will not accept farm animals. Remember that Revlon spokes-pig? QWell, you might as well break out the cold cream because he's having nothing doing with it.
So cash it is, and that $7,500 is now the focus of our consideration. What do you think about that much for this customized and be-dieseled Sidekick, is that something that speaks to your inner Chuck Norris? Or, is that a Sidekick in the head?
You decide!
eBay or go here if the ad disappears.
H/T to reclusewill for the hookup!
Help me out with NPOCP. Click here to send a me a tip, and remember to include your commenter handle.