La Résistance française, or the French Resistance, bedeviled their Nazi occupiers during WWII. Potentially, today's Nice Price or Crack Pipe Citroën's complexities could be as vexing, but could you resist its price?
Philistines, that's what you are. Well, at least the 45.14% of you who lack an appreciation for artistic expression. For the rest of you, yesterday's mobile museum '85 Lincoln Limo would have been just the ticket for getting you to the Nice Price party.
That limo was nearly a block long, and along with its flag-waving artwork, its size was emblematic of American prosperity and exceptionalism. At 16 feet, today's 1985 Citroën CX Familiale diesel wagon is almost as long, as is its full name. It also waves the red, white and blue, but of the stripy sort rather than one that says my god, it's full of stars.
G/O Media may get a commission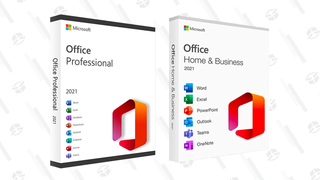 89% off
Microsoft Office Professional 2021 Lifetime License
If you've seen the vermilicious Pixar film Ratatouille then you know that French cuisine is has a reputation for complexity, aesthetics, and palatability. Many a Gallic dish is a tour de force of cooking ingenuity that merges simple ingredients into a complex mélange of flavor, texture and presentation that is a singular and nationally identifiable experience.
The offspring of the French carmaker, Citroën are much the same.
Citroën's CX supplanted the long-running DS in 1975. That earlier car represented a quantum leap in automotive engineering when it debuted in 1955, and nearly 20 years later the rest of the industry still hadn't caught up. But Citroën's unique features like hydropneumatic self-leveling suspension, aerodynamic body design and dash-mounted brie warming tray seemed less jaw-dropping, but no less advanced when they found their way into the CX.
The big Citroën came in two wheelbases, although the wagon – as represented here – only came in the longer, 121.9" span. That provided what at the time was claimed to be the greatest rear legroom of any standard sedan. A raised rear roof section means you can wear top hats in the car as well as berets. This silver bullet appears to be in pretty good shape for its age, although the seller says the bumpers where mysteriously replaced prior to his ownership, the clock is missing, and there's a tear in the driver's seat.
On the plus side the cool single spoke steering wheel is like a big ol tongue pointed at your lap - which is always a pleasure, but below that the muddy Pep Boys floor mats don't do the interior any favors. Out back - way out back - the priapistic trailer ball seems out of place, although it would be fun to creep under the hitch at full drop and then have the hydraulics ease the car up into it like it was a virgin on her wedding night.
With the Citroën it'd be a honeymoon that'd last too as the 2.5-litre oil burner under its hood gave the CX the honor of being the world's fastest diesel back in the day. That turbocharged and intercooled four is claimed to have been recently replaced on this 58,000-mile car, as has the complicated hydraulic system, both big plusses in anybody's book. Citroën's unique pressure system means that the car has no springs and gives it a ride that magically turns any road into a sheet of glass, although it may require Dramamine. The hydraulics also extend to the braking system, a kind of creepy self-centering steering system that'll make you think Casper's along for the ride, and the clutch for the 5-speed manual. Early cars had a reputation for expensive and frequent repair bills, but that changed over time, and the Series II – which this car is – were considered to be much improved.
Parts availability for these cars is surprisingly not problematic despite they're never being officially imported here. That's because there's a strong cult of the double chevron that exists in the states and by buying a Citroën you are automatically shown the secret handshake. Aside from that, it's more than 25 years old so keeping it here shouldn't require forged Vichy papers or covert late night transfers between safe garages.
The CX is considered by many to be the last true Citroën, the last born before Peugeot took over the company making most Citroëns since, well, just funky Peugeots. As such it is full of Citroëny goodness, and is one of the biggest diesel-powered five-speed wagons money can buy. For anyone looking to get their Citr-on this one comes with a $7,500 price tag. But is that a good value? What do you think, is that a price that would make you want to occupy this Citroën? Or, for that much do you feel the resistance is growing?
You decide!
eBay or go here if the ad disappears. H/T to miyatacandypaint for the hookup!
Help me out with NPOCP. Click here to send a me a tip, and remember to include your commenter handle.