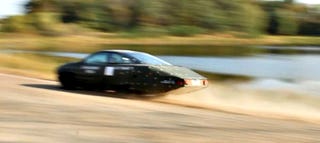 Nice Price Or Crack Pipe
Is this used car a good deal? You decide!
Ford applied the Probe name to a series of aerodynamic studies and one production series. Today's Nice Price or Crack Pipe Probe is an odd combination of the two, but is its price more of a study in error-dynamics?
Well, for the 68% of you who voted it down in a Crack Pipe loss, yesterday's rough but ready Ford Maverick proved to have been priced with little horse sense. That's a shame because while there's no value in beating a dead horse, there is in a pony that's a beater, this one just being a poor one owing to its too-high price.
The Maverick and Mustang were intimately related seeing as they both shared a Falcon for a father and Lee Iacocca for a cigar-chomping Mom. Today's 1992 Ford Probe represents a model that, while in no way related to the Mustang other than by their shared brand, was once considered as the pony car's replacement.
By the late '80s the Fox-platform Mustang was already a decade old, and so long in the tooth it could have easily been mistaken for a display at the La Brea Tar Pits. Needing a replacement for the sub-'Stang EXP, Ford turned to partner Mazda and their G-platform to develop a small sporty coupe. At the same time, the Blue Oval was experimenting with aerodynamics, having seen great success in production cars with the slippery Thunderbird reboot and game changing Taurus/Sable twins.
The resulting car was a rounded and sleek mid-sized hatchback with hidden headlights and fared-in side mirrors. The 4 pot and V6-powered cars were determined to be not only suitable for EXP extinction, but also as a modern interpretation of the Mustang personal coupe trope. That was, until Ford showed the car to focus groups made up of then current Mustang owners.
Vitriol was spilled and pitchforks were raised at the notion of a front wheel drive no-V8 Mustang, and so the Fox-based car lived to see another day- and another iteration - while an eleventh hour change was made to the Probe's tooling to eliminate the MUSTANG Probe embossing on the rear bumper. Mustastrophe averted!
The Probe went on to join the elder statesman Mustang on dealer lots, and added another slippery feather in Ford's aerodynamic cap. The builder of today's custom car however has taken that - in the immortal words of Madness - one step beyond.
Featuring an elongated tail for smoothing the airflow coming off the car, this UFO Recovery Bureau-painted custom is claimed to provide a 46% increase in fuel economy from its 198,000-mile (!) 2.2-litre Mazda four. It's also had its nose masked, as well as its mirrors docked, replaced by internal ones that are claimed to work just fine. Not working all that well are the headlamp lifting which needs to be done manually, and a gas leak somewhere that imbues the car with the pungent smell of 87 octane when the tank is full and dribbles the precious fluids on the ground like an excited puppy.
As infuriating as it may seem for someone to put a car on sale without fixing something as seemingly simple and potentially as dangerous as a fuel leak, it's hard to stay mad at so wacky - and efficient - a ride. Hell, if you can figure out how to sell off a C-note's worth of parts, or get the seller down by the same amount, you've got the perfect LeMons ride that comes pre-themed and potentially able to run all weekend on a single tank. Of course the gas leak will probably not pass safety inspection, and as one of the judges tends to smoke, it might also turn the pits into Ruth's Chris.
But what the hell, it's a freaking long-tail Probe in military olive drab with a swirlie on its roof for $600, who wouldn't like to roam the lands in that? You now need to weigh in on whether all that many people might want to actually do that, at least for a sextet of Benjamins. What do you think, does its $600 price make this a Probe someone should gladly stick their ass into? Or, for that much, should the seller do visa-versa?
You decide!
Minneapolis Craigslist or go here if the ad disappears.
H/T to SntgXL for the hookup!
Help me out with NPOCP. Click here to send a me a fixed-price tip, and remember to include your commenter handle