Soccer moms, both hot and not, gave up the minivan for SUVs about a decade ago. Despite that, you might still consider today's Nice Price or Crack Pipe Previa a MILF- a Minivan I'd Like To Find.
If you strive to live down by the river, but have been having a hard time finding suitable accommodations - or if you just like brown eggs - then today's Previa minivan may just be your cup of Toyota. Funny thing about Japan's leading car producer, they're mostly known for making cars that are duller than dishwater, but on the rare occasion when they do weird, they do weird proud.
Chrysler's K-car-based minivans didn't invent the category, they just created a more consumer-focused version of a class that had in the past been aimed more at commercial interests. Those old minivans of lore - the original Ford Econoline, Dodge A100 and Chevy Corvair Greenbrier joined a spate of small European vans marketed as an alternative to the family wagon or commercial delivery. Unfortunately, those vans drove more like trucks than the cars upon which they were based, and over time they evolved, and grew from the initial mid-engine, forward control versions to the large commercially-oriented vans we have and are occasionally creeped out by today.
The Japanese car makers, eager to compete with Chrysler's modern interpretation of the small van form obviously didn't get that memo that forward control was out because Toyota, Nissan and Mitsubishi all brought over small, mid-engine vans, intent on getting a piece of the U.S. Market minivan pie. Of course, fielding each of those was like bringing turtle to a gunfight and none had anywhere near the success of Mopar's Minis. Eventually they were each either dropped or replaced - and in the case of the Nissan, all bought back due to a nasty habit of catching on fire. In Toyota's case, the space wart-like Van was replaced with something completely different.
G/O Media may get a commission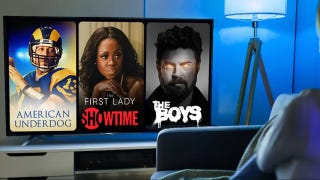 UNDER $1
99¢ Prime Video Channels
And that's when things got weird.
The Previa minivan was also mid-engined, but instead of a box between the front seats, its four cylinder powerplant rode under the floor tilted over at 75°. Not only were the front seats freed from side-saddling the motor, but they also no longer sat atop the front wheels, offering up a modicum of impact mitigation. The '90-'97 Previa also looked nothing like its predecessor, something that played dramatically in its favor. Egg-shaped and tall in appearance, Toyota's new van looked as futuristic as the old one had looked anachronistic, and to solidify its consumer-only creds, no panel version was offered.
What was offered, over its seven year life, was sort of three flavors of Previa- you could get a 5-speed stick, you could get a supercharged and intercooled engine, and you could get AWD. Unfortunately you couldn't get all of those together.
This tastefully modded 1991 Previa has the 5-speed, and neither the blower or the ability to spin its front wheels in anger. That means that, under its floor beats a 135-bhp 2,438-cc 2TZ-FE, which sends power back through that aforementioned stickity shift to a solid rear axle. In this case, the engine has been modified with what the seller says is a short ram intake, which should be good for a few extra ponies just because it has ram in its name. There's also enough TRD thrown at it to have given his Toyota parts counter dude a hernia. And, topping it all off, is a body kit and paint job that eliminates one of the Previa's primary weaknesses, which is the gray plastic bumpers/cladding, pieces that time and sun do not treat kindly.
The van is claimed to have 158K on its clock, and inside you'll find a double-din head unit with nav and whatnot, plus some amps and kicker taking up space in the back. The seller says the door panels are custom, although the seats still have the striped pattern common with in the Previa and which here cover all three rows. A funny add-on is the triple gauge package in the cockpit. Now normally these are stuck on the A-pillar, but here in the van that's so far away you'd need a magnifier to read them. Instead, here they've been stuck on the little side window glass ahead of the door. The gauge farthest forward appears to be a turbo gauge, although the seller makes no claim of the van being boosted, so who know what that reads.
He does say that it handles like no other van, and that he'd like to get $6,500 for it. These things were wonderfully weird when they came out, and Toyota has not given the U.S. Anything that lets its freak flag fly nearly as much as this ever since. You're also unlikely to come across the extremely rare 5-speed edition in this nice of shape at any price, so that too should be taken into consideration. And it's now the time has come for you to do that considering. What do you think, is this egg-cellent shape custom Previa worth $6,500? Or, is that too maxi a price for so mini a van?
You decide!
Miami Craigslist or go here if the ad disappears. Also, check out the seller's Flickr pool.
Help me out with NPOCP. Click here to send a me a tip, and remember to include your commenter handle.