For many British cars of the 1960s, if it still runs today, it's a triumph. Now, Nice Price or Crack Pipe has a running Triumph that may be a herald of top-down driving to come.
Only 59% of you hopped on the GTI bandwagon yesterday, giving it a dimple-knobbed victory. Its detractors scoffed at the price, bringing up the car's potential for imminent wallet-emptying disaster mostly due to the astronomically high mileage. Still, it's interesting to see a car with that kind of miles under its tires still remaining a viable driver, and points to the strides in durability and component longevity in the modern automobile. That wasn't always the case. For the majority of the automobile age most aspects of a car's functionality were manually driven- starting required a manual choke, transmissions required a manual selection of gears, windows were lowered and raised via manual cranks, etc. When automation was brought into play, it usually was of the rube-goldberg variety or required an even more stringent maintenance regime. Today we have a car that hails from that simpler era, when little of what the car does happens without manual interaction. In many ways, that's a good thing.
This 1965 Triumph Herald is about as simple a car as you can imagine, with only its swing-axle rear end to be considered somewhat avant-garde. Looking at the front like a '55 Chevy as designed by someone who had only seen them in pictures, the car is clean and purposeful- so much so that James May thought it a good idea to attempt a channel crossing in one powered by the wind. As a four-place convertible, it may be considered as the British equivalent of the contemporary Ford Falcon, albeit on a three-quarter scale. The Michelotti-designed Herald, in case you are unfamiliar, formed the basis for the Spitfire sportscar, as well as the neat 2-litre six propelled Vitesse and GT6. As the design is a body on frame, the engine is reached by tilting forward the entire front clip, providing unparalleled access to the 1,147-cc engine which breaths through a single solex. Sadly, the Herald 1200 lacks the windsplit cum handle in the middle of the hood which aided in lifting and lowering the clamshell on the 948 edition. This car is claimed to be rust-free and to have only 54,000 registered on the Smiths odo. While it lacks the sporting pretensions of it's sister Spitfire, or the smooth cruising capabilities of big brother Vitesse, the Herald is a wonderful car in which to run around on the weekends, as long as you're not in too big a hurry to get anywhere.
The Herald never sold in great numbers here in the U.S., and Triumphs in general seem to have vanished from our roads and driveways at a much more precipitous rate than have the comparable Austins and MGs. This Triumph, with its folding roof, plank dash, and four-place accommodations, offers a distinctly British driving experience that is cheekily rewarding in its own right, but as noted, hard to come by these days. But is that experience worth $5,000?
G/O Media may get a commission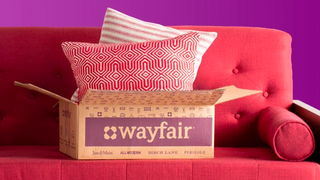 Big deals
Wayfair Surplus Sale
Would you spring for five large to drive the equivalent of a tweed coat and jaunty cap? Or does that price herald you passing on this diminutive Brit?
You decide!
Missouri Craigslist via Bring A Trailer or go here if the ad disappears.
Help me out with NPOCP. Click here to send a me a tip, and remember to include your commenter handle.