Prevaricating Joe Isuzu is one of advertising's most beloved characters. In fact, if the vehicles he hawked had been half as well liked, Isuzu would still be selling them here. For today's Nice Price or Crack Pipe we have one for sale - used of course - but will you truthfully love its price?
Last Friday, we went for baroque - geez, that joke never gets old - with a 1978 Lincoln Continental Mark V American Custom Coachworks Ltd. St Tropez Convertible, whose name was almost as long as the car. Unfortunately for the seller, that tidy but massive left-lane leviathan was seen as commensurate with its asking, and it fell in a decisive 66% Crack Pipe loss.
Today' we're moving from a car that you could potentially see from space to one that you simply don't see all that much anywhere anymore. Do you remember Isuzu? Of course you do, you see the name on the box truck ticking over in the turn lane next to you all the time. Once upon a time however, the Japanese GM arm sold cars and trucks here to regular Joes like you and me.
G/O Media may get a commission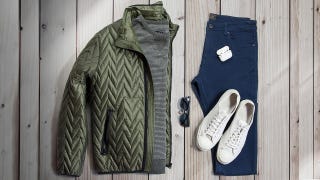 60% off
Jachs NY Fall Sale 60% Off
The first of those was a small sedan and fastback coupe that was offered in the '70s through Buick dealers and marketed as - get this - the Opel by Isuzu. That sobriquet, while onerous and belittling to both former Axis partner nations, was wholly accurate as the cars were in fact versions of the Opel Kadett C built by… that's right, Isuzu. I know, mind blown!
Isuzu never got much respect for their cars here in the States, the Piazza of the '80s perhaps being the brand's most notable attempt. They did however, have better luck with their trucks, riding the wave of SUV popularity ignited in the '90s with the meth-like demand for Ford's Explorer.
By the time the new Millenia rolled around, Isuzu had a pair of SUV platforms from which to choose - the Rodeo and Trooper - and both of those were getting somewhat long in the dentures. Just prior to the Y2K fizzle, Isuzu had marketed the two-door version of the Rodeo here as the Amigo, but a new Century demanded model reconciliation, and so regardless of door count Rodeo it was.
One thing that the Amigo/Rodeo had going for it was a model that offered the choice of closed or semi-open air motoring, much like Jeep's Wrangler, only a little more civilized. This 2002 Rodeo Sport is just such a goes-both-ways truck.
Actually, this truck appears to only be a convertible as the removable hardtop and glass back window are not evident. I think it's an either-or situation with these where you need to do a lot of taking-this-off and putting-this-on to make the switch.
Regardless, the back section of this Rodeo's top goes down like an inebriated prom date, and the glass front section can also come out giving you the benefit of being the object of bird target practice without the major pain in the ass-ness of a full convertible.
Other interesting aspects of this truck include the X22XE 2.2-litre four, an engine built by Holden in Australia - and no that doesn't require it to be installed up-side down. Smart ass. That mill pumps out 130-bhp and here that power is put to use by a 5-speed manual transmission.
All that gets bolted to a stout ladder frame and you don't have to worry about the added complication - or hit to the fuel economy - demanded of 4WD as this one only turns its rears in anger.
Both body and interior look to be in fine shape, and that convertible top of which we spoke is newish, as are the tires, running boards and class II towing package. With only 130 horses on tap and a relatively short wheelbase, I wouldn't be using that last add-on. Of course, I hate - no, I HATE - towing anything.
You probably won't hate this Rodeo's relatively low 128K in miles, but how will you feel about its $4,650 price tag? I've looked and have found these all over the board, but not one that has the all the attractive elements this one presents. What do you think, is that price a fair deal for this Sporty Isuzu? Or, does that ensure this wouldn't be your first Rodeo?
You decide!
Two Pickets to Titsburgh Craigslist, or go here if the ad disappears.
Help me out with NPOCP. Click here to send a me a fixed-price tip, and remember to include your Kinja handle.
NOTE From Rob: I wrote this before watching yesterday's Top Gear, so the choice just proved to be a happy coincidence. Hopefully this one won't (SPOILER ALERT) break in half.