There used to be the grammar-bending tagline for a danish baker that went Nobody doesn't like Sara Lee. There's a lot of Danes in Minnesota, which is where today's Nice Price or Crack Pipe VG30ET-powered 510 lives, but will you find its price to be a Dutch treat?
It can't be said that nobody doesn't like police-painted Pintos. And while that double negative may have the grammar police reaching for their nightsticks, very few of you ended up reaching the conclusion that yesterday's po-po Pinto was anything other than a 63% Crack Pipe. That Ford couldn't get arrested in this town, however today we're going to see if a Minnesota 510 project is close enough to done to warrant its $4,500 bail bond.
Everybody does like Datsun Dimes, right? Their reputation as a poor-man's BMW 2002 has elevated the boxy compacts above their '70s rivals for decades now. Although, while idolized by many, the 510 cult's mantra seems to be stock is a crock. It fact, they seem to never meet a Dime that they didn't like to mod, and today's very clean appearing 1972 Two-door Dime has been modified to the nines, er sixes. That's because the L-series four under its hood has been replaced with VG30ET out of a 300ZX.
G/O Media may get a commission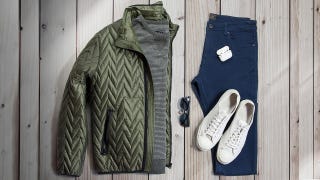 60% off
Jachs NY Fall Sale 60% Off
That engine is the single turbo, 2,960-cc V6 which in its 300ZX guise pumped out a healthy 200-bhp. Here it's not pumping out anything due to what the seller describes as mickey mouse routing of the intercooler plumbing. He says it used to hang outside the bodywork like Flava Flav's clock, but now it's just sitting, waiting for someone to hook it all back up. The VG wasn't intercooled from the factory so it's possible you could just flush all that extra intake plumbing and revel in still having more than twice the ponies of a stock L-powered 510. The transmission backing the VG is described as being 'manual' but nothing more. Hopefully, considering the more than doubling of ponies now in front, it's the five-speed from the same 300ZX and not the Dime's original box. Other mods include coilovers and discs all around, and keeping the discs from scraping the pavement are a set of Aussie-made ROH alloy rims.
Inside there's a roll-over bar, and the seller says that both the driver's seat and rear bench are presently yanked out for wiring shenanigans. There are no pics of its insides, so that'll have to remain a mystery other than those two factoids. The body looks awesome - at least in the shots provided, and white paint on a 510 is like white lingerie on Miranda Kerr - i.e. looks damn good. Sure, you can't get all up in its grille, as that's missing - as is the front blade bumper - but those deletions give it a kind of cool no-nonsense look, and better highlight the ducted airdam below. All in all there's a lot here to like, Sara Lee.
But then there's the other stuff. The seller says that he's too drained to work on this car because of his 6.0 (!) 240Z project, but how hard would it be to have at least gotten the car running before offering it for sale? Then there's the fact that, while he does have the aforementioned Zed, and seems to also rock a Maxima, thus proving an affinity for the brand, he makes the claim that only the two-door 510s had coils in the back. Truth be told, it was just the wagon that came with a live axle and semi elliptics, and that makes you kind of question what else he might have been misinformed about when building this Dime.
And then there's the price, $4,500. 510s in good shape seem to be going for around that these days, but then you have to factor in the pros of the 3.0 and the work done so far against the cons of it not running and all the work you know will required for it to do more than just roll down hill. And since it would be a shame for this Dime to spend one more minute being a stationary object, it's up to all of you to help out any prospective buyers by voting on that $4,500 price tag. So what do you think, is that a price that's as sweet as a danish? or, would spending that much be the equivalent to getting a dutch oven?
You decide!
zcar.com or go here if the ad disappears.
Help me out with NPOCP. Click here to send a me a tip, and remember to include your commenter handle.