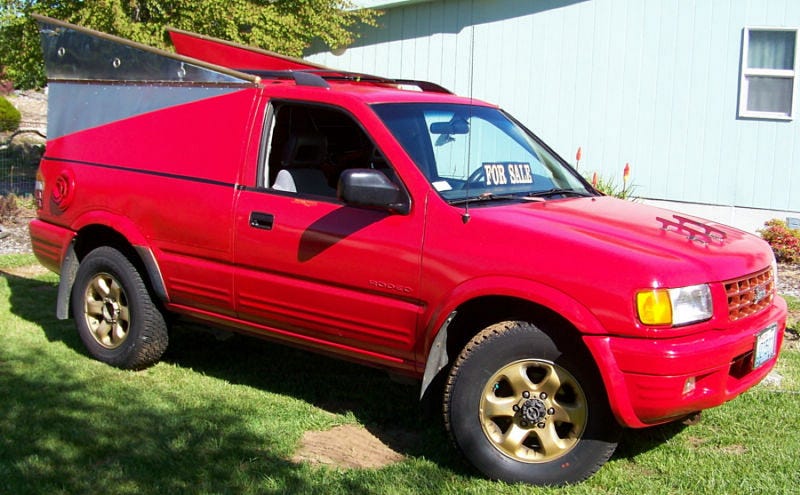 The advertising character Joe Isuzu gained fame for constantly lying about Isuzu's cars' capabilities. One thing's for sure, no matter what Joe might have said about today's Nice Price or Crack Pipe custom Rodeo, it couldn't possibly exceed the audacity of the truth.
Sometimes of course, as Jack Nicholson so concisely encapsulated in A Few Good Men, you can't handle the truth. And it seemed that yesterday an overwhelming 93% of you couldn't handle either the humongous price, or sketchy nature of our candidate 1991 BMW M3 Convertible. I guess we don't need to ask about the one going for sixty grand then.
Dubbed ray gun truck #4, today's 1998 Isuzu Rodeo custom panel truck is an audacious reminder that American ingenuity is not dead. You may tout the creation of Twitter, Doritos® Locos Tacos, or even Tesla's battery technology as examples, but I say an SUV with wings is all the evidence one needs.
Who puts wings on cars? Well, these guys thought it'd be a good idea, you know, for Jeremy at least. Then there's Batman. Are you going to argue aesthetics with Batman? Finally, (cue angels on high)there's this be-winged beauty.
You know, it's always reassuring when considering the purchase of a customized car or truck - something that you will entrust with your safety - to have the builder come right out and say in the ad "I ain't the best engineer in the world." That means that you already know that the hatch hits the magnificent fins when raised and you won't scalp yourself the first time you open it.
While possibly not topping the pack in engineering, the builder of this truck is nothing but thorough. Torn CV boot? Replaces the works and repacks the half-shaft. Previous owner scrapes the truck against a pole? Replace the crumpled bits with freakin' fins.
Those bat-ear like extensions not only serve as unique indicators of individuality but they're also functional as well. The trailing edge of each has been fitted with LED lights which have been hooked up to the turn signals. They're also half coated in stainless steel, which as you may or may not know, has a reputation for avoiding stains, which is also good.
The paint is Rustoleum Red and was applied with roller and brush and rattle can - just like the Masters. The angle of the dangle in the rear below the fins, along with the gold alloy wheels, gives the truck the appearance of a pristine Dakar rally participant. Of course, do Dakar entry ever sported wings like these.
Powering the 151K truck is Isuzu's 3.2-litre quad-cam V6, which was good from the factory for a little over 200 horses.
That mill supposedly has an EGR issue which causes the CHK ENG light to illuminate on the dash. Some people may consider that a red flag, while others may find basking in its warm amber glow to be comforting. It depends on how you swing.
The rest of the mechanicals and structure - auto gearbox, stout ladder frame and well regarded locking AWD is said to work just fine, meaning you can take wing with confidence both on the road and off. The interior - or what's left of it - seems to be in good shape as well, and the plywood in the back will probably make the insides smell like a mountain cabin - or possibly of formaldehyde - for years.
This Isuzu is obviously a double fist pump of awesome, not just because of its amazing fins, but for the whole package. It kind of makes you wonder, if the company had introduced such an edition of the Rodeo, would they still be doing business in the U.S. today?
Still, we're here to bury Caeser, not to praise him. And since he doesn't seem to be around, we'll just have to weigh in on this custom Rodeo's $4,200 Buy It Now price tag. What do you think, is this truck awesome enough to command that cash? Or, for that much, will the seller need both a wing and a prayer?
You decide!
eBay out of Washington State, or go here if the ad disappears.
H/T to Michael Walters for the hookup!
Help me out with NPOCP. Click here to send a me a fixed-price tip, and remember to include your commenter handle.