They say the two certainties in life are death and taxes. While the latter comes annually, the former's arrival is usually a mystery. Today's Nice Price or Crack Pipe Samurai could certainly speed that up however.
Speed was on the minds of the 75% of you who voted Nice Price for yesterday's 914 with an odd-ball ad. As the little mid-engine Porsche was once one of the best handling, fun to drive cars out there, you obviously had visions of carving up the canyons in this aggressively hued beast. That was mostly before pjstevens77 admitted to having seen the car in person and crushed any hope of it being a rare deal proffered by an unknowing seller.
Speaking of an unknowing seller, today's candidate is claimed by the poster to be offered up for a friend. You're supposed to keep your friends close and your enemas closer, and with a Suzuki Samurai like this one, you can do both, the damn thing's just that small. Not small is the engine, because in place of the hummingbird pecker that used to 'power' this Japanese Jeep, there is now a romper-stomper Ford 302 V8. Can I get a Gawdayum?
The Samurai is well known for its proclivity to turn turtle and kill its occupants, and replacing the negative displacement Suzuki four with and engine more accustomed to flinging Mustangs down the street will likely only exacerbate that tendency. Aside from that, this thing looks pretty cool. Down there in V8 city, the ponies are claimed to number 300, all ready to either defend Sparta or twist this Suzuki's ladder frame like it was Chubby Checker's tightie whities. The auto trans (haters, you seriously don't want a stick in this thing) features a quick shift, and sends those horses back to an un-cut 9" rear end, also a donation of the Ford Motor Company.
G/O Media may get a commission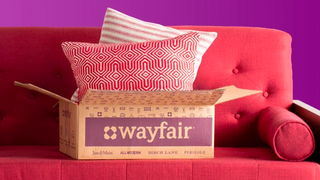 Big deals
Wayfair Surplus Sale
The deathtrap Suzuki comes with a new set of street Goodyears on mis-matched rims, but also gets some big-ass paddles thrown in which will be perfect for roostertailing the bikini tops off of girls at the beach. Score! The rest of the trucklet is red roses for a blue lady with a wrinkly black soft top that could conveniently be used to wrap your body in after this thing kills you looks intact. Inside it's '80s Suzuki Samurai which isn't saying much, but you probably wouldn't notice as most of the time spent behind the wheel would be taken up with manically laughing and sawing at the wheel to avoid the trees that inexplicably keep jumping out in front of you.
Mileage? Who gives a monkey's cobbler? It's a freakin' Samurai with a 302 wedged under the hood like a V8 trebuchet. It comes with 6 tires, and two of those look like you could use them to prolong daylight savings time. If you're looking to let your freak flag fly, this tiny two door will definitely get people saluting.
But before they can, you'll need to both check that your life insurance is paid up, and come up with $3,500. That's the price this poster's 'friend' is asking for this sand-eating Suzuki. Does that price make you want to become friends with this seller too? Or, does that put this Samurai on the chopping block for you?
You decide!
Slam Diego Craigslist or go here if the ad disappears.
Help me out with NPOCP. Click here to send a me a tip, and remember to include your commenter handle.