Today's Nice Price or Crack Pipe Ion-Ranger is an uber rare survivor of the Blue Oval's early attempt at a wholly electric vehicle. Could that provenance and its price have you pulling out your high-ho silver?
Yesterday's tidy 1982 Peugeot 504 diesel wagon provided us with quite the conundrum. That was because it was discovered to have been offered on two different sites at two substantially different prices. We liked the cheaper price a lot, and the higher price not at all, and in the end it won a cool 70% Nice Price victory at the lower price.
I've checked and today's 1999 Ford Ranger EV doesn't seem to offer up any such sort of chicanery. What it does offer however, is silent running as this is one of a small fleet of electric Rangers Ford built back at the turn of the 21st Century.
The Ranger EV was in fact built by Ford in Edison New Jersey (how perfect is that?) and was leased mostly to fleets. In place of the standard Ranger's gas engine the company placed a Siemens 90-horsepower three-phase electric motor and a bunch of gee-whiz electric stuff.
G/O Media may get a commission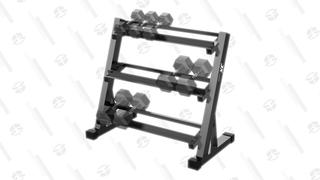 20% Off
JX Fitness Dumbbell Rack
Gains but tidy
Has a three-tier design to help store more weights more conveniently, can safely support up to 1000lbs of weight, which should be enough for most people, has a triangle base for stability, and also features anti-scratch feet which is great if you've built your own studio or workout in your garage.
The original battery pack powering all that was a series of 39 Delphi VRLA (Valve Regulated Lead Acid) 8-volt batteries mounted on the down-low between the frame rails and giving the truck a range of around 60 miles if you babied it.
This one has had those replaced with a set of lithium iron phosphate (LFP) batteries. The ad says that took place back in 2011 (when everybody was dropping acid), and that one of those cells is now dark, limiting the Ranger's range. Extra cells apparently go with the truck—good thing it's a pickup—but there's no mention as to whether they are any good or if the seller's just cleaning out the garage.
Despite being down on charge, the truck does "start" and run, according to the ad. It comes with an aftermarket Wicom 3KW charger that will pull from either 110 or 220 so plugging it in shouldn't be a hassle, just a question of how long it will take.
The truck is nice shade of fly yellow over what's probably a utilitarian grey interior. It originally was white, as were all 1,400 of these if memory serves. The seller says that only about 400 still remain, and that the stalwart souls that own them band together in a Yahoo group. You know that anyone who is a member of a Yahoo group's got to be a nut job an eclectic individual, right?
There's 27,910 on the chassis, and the truck comes with a bill of sale, not a title, owing to its history. This is a rare chance to own a little bit of that history, albeit one that will probably just get to the home center and back before it runs out of its electrical poop. Still, as a second car, or an opportunity to play around with a fully electric vehicle, this seems an excellent starting point.
The price is $3,000, which in case you haven't been keeping track is less than a tenth of what a Chevy Bolt will run you, and probably less than you'd pay just for the big-ass center console screen in a Tesla.
For that you get a running truck that's HOV-lane friendly and helps the planet too. What do you think, is that all worth it? Do you think this rare Ranger EV, as presented in its ad, could claim $3,000? Or, is this an electric truck priced to shock?
You decide!

Wichita KS Craigslist, or go here if the ad disappears.
Help me out with NPOCP. Click here to send a me a fixed-price tip, and remember to include your Kinja handle.