The Datsun Z-car and LS1 engine go together like maple syrup and waffles, however unknowable build quality can make buying one a sticky situation. Today's Nice Price or Crack Pipe Canadian Z is claimed to be mint, but does its price require owning one?
What is it with the English and appending 'eee' to the end of everything? They watch the telly, wear a hoodie, and take their dogs for walkies! And when they want to go off-roading they usually drive a Landie. Yesterday, you could have fed your inner anglophile with the weirdly wonderful Landie 90 300TDI that was offered up for the price of a rental-quality Camry, and in fact 44% of you did. The remaining 56% thought it and its price Crack Pipe-worthy, and many found that the ad came off as being a little, how shall we say, douchie.
Back in the '70s, when airplane highjackings seemed to be an almost weekly occurrence, a number of U.S. travellers would conspicuously display a red maple leaf on a shirt or backpack. This was due to the rep that highjackers had for singling out Americans for the harshest treatment, while in contrast offering free upgrades and beverages to Canadians. The seller of today's 1976 Datsun 280Z claims that it once was American, but is now a Canuck. Along with its move north, this Z has lost its straight six, and gained an LS1 V8.
G/O Media may get a commission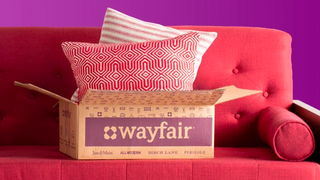 Big deals
Wayfair Surplus Sale
As I noted in the intro, frequently this kind of Z-car - or pretty much any car that has received a heart transplant - tends to reflect the vision, capabilities, and ultimately the bank account of the builder. As evidenced by both picture and description, this Z's creator had lots of all three. There's very little here that would make you go WTF? regarding a choice made in the upgrades, or even its execution. That starts with the engine, here an eleven year old LS1 with a claimed 40K on its ticker. Yanked from a C5 Vette - arguably one of the dumpiest of Vette designs - the fuel injected 5.7 litre put out 345-bhp from the factory. Looking as good slipped into this Datsun's engine bay as Emmanuelle Chriqui (possibly NSFW) looks squeezed into tight jeans, it's claimed to be good for nearly 400-hp at the wheels. That's not just due to some sort of crazy Canadian horsepower conversion rate, but instead to a litany of internal upgrades that change the LS1 from fire-breathing to potentially flame-throwing. And the seller says it's appropriately LOUD.
Backing up the General's gift to speed freaks is a T56 transmission with a McLeod clutch and Hurst 8-ball knob on top. 300ZX axle upgrades help keep the tires spinning and not just the driveshaft. Suspension refreshments include coil-overs all around, adjustable a-arms and a fat anti-sway bar up front to compliment the tower brace out back. The car also comes with both a set of street rims and drag strip wheels and tires. The seller has the second set because he likes to light 'em up at the strip, and says the car is good for 11-second runs. That may be in Canadian seconds, but even so is still pretty damn quick.
Visually, the car looks clean both inside and out, and features what he says are custom upholstered Recaros facing a set of Autometer gauges and one of those plastic dash caps that the manufacturer claims will look factory but instead looks like Donald Trump's toupee. Outside, it's arrest me red, and this is one instance where the car could easily walk the walk of a color that talks the talk. A spoiler out back and an airdam in front help to visually distract from the massive bumpers that blighted the 280Z in the name of higher insurance company profits.
Another blight may be this 280Z's price, which is $26,500 Canuck Bucks. That works out to about $27,800 down here in Canada's butt, and an amount for which you could buy a whole herd of Canadian Miatas. But there's something just so cool about a Z with a 350 - a fact that was realized even back when the S30 was new, as evidenced by the Scarab conversion. Here, it doesn't look like an unfinished project, and the claim of drag strip heroics indicates the owner's confidence in the build.
But is it worth 26,500 of those colorful pieces of paper the Canadians use for money? What do you think, is that a deal for so dutifully detailed a Datsun dragster? Or, does that price give you a Canada goose?
You decide!
Red Flag Deals or go here, eh if the ad disappears. H/T to zuey10 for the hookup
Help me out with NPOCP. Click here to send a me a tip, and remember to include your commenter handle.