The Canadian TV show, How It's Made, details the manufacturing process of just about anything. Today's Nice Price or Crack Pipe franken-Subaru could have been on that show, but its price may send it back to the drawing board.
The Subaru Impreza STI (Subaru Tecnica International), and competing Mistubishi EVO, re-wrote the book on performance cars by taking plebeian sedans and dumping every bit of horsepower and handling that each company's WRC-jonsing engineers could cram into them. The results, unlike the cool, calculating Bond-like killer that is, say a BMW M3, are cars that are like rabid pitbulls ready to tear your nuts off to use as their hors d'oeuvres.
The second generation rally-bred STI (then still the WRX STi) featured a body that was torsionally much stiffer than the first, making them less spastic through the corners and able to tickle the higher limits of their performance envelope. On the downside, the GD STIs are also a lot fatter - 400+ pounds heavier to be precise. That extra weight may have been why Subaru didn't offer an STI version of the GD Impreza wagon, itself having a does this hatch make my ass look big additional poundage challenge over the trunk-ated version.
But that didn't stop one crazy Canuck. Today's candidate started life as a 2002 Impreza TS wagon - the white bread of the Impreza line. Trying to perk it up a bit, he has plugged the front clip from an '05 car (which is thankfully not the bug-eyed version that looked like those disturbing goldfish), along with the wide-body fender flares. But all that show without the accompanying go is like dating Jenna Jameson without making a delivery at the back door, and so he's also popped the hood and popped its cherry to the tune of a 2.5-litre EJ257.
G/O Media may get a commission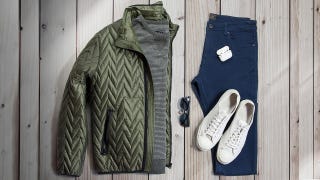 60% off
Jachs NY Fall Sale 60% Off
Add to that 293-bhp turbo flat four the STI 6-speed, STI seats out of an '07, STI subframes, STI LSD, Brembos and more, and what you have is a freakin' GD STI wagon. The seller claims that, less the headlights, shift knob and coil-overs, this car is all OEM STI, right down to the spark plugs.
The photos paint a picture of a car that's pretty much exactly what you'd expect, lacking only the little pink STI stickers on the front light plates. Despite that, the seller drones on about the particulars like a happy drunk, and takes a Sergio Leone approach to deliniating the car's pros and cons with a Good and Bad, only leaving out the Ugly. Under good, he rightfully notes the EJ257, and makes the claim that it doesn't burn oil, limiting its appeal to BP's efforts in the Gulf. He also, somewhat strangely, says that it's a clear car, that has not been molested during its swap which I guess means that it can still wear white to its wedding.
Under bad, he takes kind of an odd approach to his sales pitch by noting that the car is. . . a wagon. Um, yeah, that's what you just spent the last five years making it, dude, If anybody finds that fact too heinous they've already surfed over to subiesedansonly.com.
You know, not to get off track or anything, but the creation of this car is really like that Frankenstein story, only with axles instead of entrails. Regardless, it's still the story of somebody who said, this doesn't exist, and so I will create it, thus filling that void. In Frankenstein's case, it was freakishly large homicidal maniacs that seemed in short supply, here it was 2nd Gen STI wagons.
Sorry, moving on.
Other bad stuff noted on the car are poor fitting inside door handles and an A/C system that the seller claims he hasn't had time to fill. As refrigerant acts as a heat transfer medium as well as a lubricant and seal preservative, he might want to make the time, and hopefully he didn't pay the same lackadaisical attention to the cooling system.
This is yet another one of those one of a kind vehicles that are the result of one person's vision and passion, and it will take someone with equal passion, but lacking the intestinal fortitude to undertake such a project, to take it off the seller's hands. It will also take $25,500 Canadian. The seller is willing to consider trades, and expresses an interest in the Lexus IS350, which may mean he wants to transition from Ricer to Poseur Ricer, or Pricer.
Since none of us have one of those to trade, let's stick with the cash, and consider whether that $25,500 (Canadian) is an equitable exchange for this greatest hits of the Naughties STI wagon. What do you think, is that a good price for this one car stitched from so many? Or, does that price make this STI and STD?
You decide!
Toronto Kijiji or go here if the ad disappears. A tip of the toque to CanuckChinaman for the hook up, eh!
Help me out with NPOCP. Click here to send a me a tip, and remember to include your commenter handle.