Today's Nice Price or Crack Pipe VW Bus is a model once associated with hippies, but which is now just hip. This one has a GM Ecotec in its butt, let's see if that, and its build will make you hip to its price.
I'm going to tell you right off the bat that I. Do. Not. Like. Clowns. I find them decidedly disturbing, especially when they spill out of a tiny car like a hoard of incongruously festooned cockroaches tumbling from under an accidentally upturned stone.
I bring this up because yesterday's 2002 BMW M Coupe was a tiny car that just so happened to carry the nickname "clownshoe." That was a cognomen owed to its unique and somewhat ill-proportioned styling. Strangely, I didn't find that car the least bit creepy despite its obvious coulrophobia connection. Fully 86-percent of you however, felt its price was like an unwanted pie in the face, earning the car's seller a Crack Pipe loss.
It's been over sixty years since civil rights hero Rosa Parks got fed up with the indignities foisted on people of color and refused to move to the back of the bus. It's been even longer than that since Volkswagen introduced the Type 2 Microbus and today pretty much everyone, regardless of race, creed or color, favors these buses with their engines in the back.
G/O Media may get a commission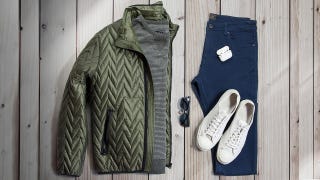 60% off
Jachs NY Fall Sale 60% Off
This 1971 VW Type 2 T2 has its mill grinding back there, but it's perhaps not the one you might expect. This is a stem to stern custom job, and part of the work done was replacing the original air cooled flat four with a GM Ecotec L61.
That's a 2.2-litre DOHC four that was pretty common fare in cars like the Chevy Cavalier and a lot of Saturns. Depending on the year and the application it was good for anywhere between 135 and 147-bhp. Here it faces the wrong way—bass-akwards—and seems to share is engine room with the radiator.
The shift to water cooling has demanded some extra perforations in the bodywork, including a pair of louver sets on each side panel, and a holier than thou engine lid. The rest of the bodywork is appreciably stock, however almost all the brightwork has been painted black.
These busses were seemingly designed for two-toned paint, and this one doesn't disappoint coming as it does in a tidy black over red. The seller says that the ride height has been lowered but not slammed, and the whole thing rolls on a set of era-appropriate aftermarket alloys.
The custom work continues inside where diamond pattern two-tone leather covers almost every available surface. This Bus is also a sunroof model so plan on getting your rays on while driving it.
Mileage goes undisclosed, but the ad notes that the title is clean so it's got that going for it. The seller also avers that it is "mechanically 100% and looking even better."
That's a pretty solid endorsement, however I guess it is somewhat biased seeing as the advocate is the one seeking to sell the bus. The asking price is $17,999, and it's now your task to decide whether it seems worth that. What do you say about this Ecotec'd Bus and that $17,999 price, yay or nay?
You decide!

San Francisco Bay Area Craigslist, or go here if the ad disappears.
H/T to onlytwowheels for the hookup!
Help me out with NPOCP. Click here to send a me a fixed-price tip, and remember to include your Kinja handle.