Today's Nice Price or Crack Pipe Mercedes was originally built in two factories, and hence took more than two weeks to complete. You'll need to decide if this Deutschland Dominator is another too, as in too expensive.
Yesterday's 1978 Pacer Wagon had a big booty in the back, and an equally capacious Caddy V8 up in the front. And it was brown! All that however was not enough to overcome the cries of yeah, but it's a Pacer, which ultimately led to this sweet sleeper sleeping with the fishes after its 54% Crack Pipe loss. It was a sad ending indeed.
AMC was the master of contracting the services of other car makers, having bought engines from GM, Volkswagen, and a guy down an alley who said they fell off a truck. You know who else liked to sleep around? Mercedes Benz. At least at one time, back in college.
G/O Media may get a commission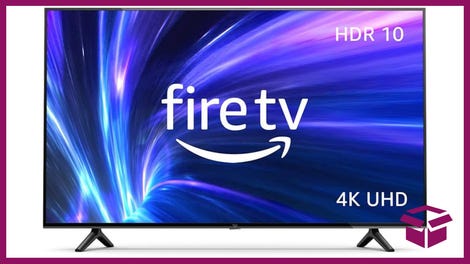 42% Off
Amazon Fire TV 50" 4K Smart TV
Today's 1993 MB E500 is an example of an agreement between Mercedes and Porsche to build the Swabian's ultimate (at the time) hot sedan. Porsche took the gig because they were hard up for cash, having not yet come to terms with the fact that they would need to build a high-volume - and profit - SUV at some point in time in order to keep the lights on.
The 500E started life as a mild-mannered W124 - or at least it did aft of the firewall. The Body in White was stamped and predominantly put together at Mercedes' plant in Sindelfingen, just like your granny's 300D. After that it was sent to Porsche's Rossle-Bau plant in Zuffenhausen for modification to the engine bay and other supermanifications.
The cars ping-pong'd back and forth between the two plants for completion of assembly, and in the end out came Mercedes' personal interpretation of the Muscle Car. Yeah, daddy! That means a big mill in a little car, which in this case was the reason for Porsche banging out the engine bay. That was needed to fit the 4,973-cc DOHC V8.
Now, those of us in America probably don't see five liters as being all that big. Hell, yesterday's Pacer was powered by an 8.2-litre engine. But you see in Yurrup, where most of the people drive around in things powered by houseflies, five liters is like Kardashian ass big. Also, try drinking five liters of Mountain Dew and tell me if that's not a lot. Go ahead, I'll wait.
In this '93 500E that M119 32-valve 5.0 makes a factory-claimed 315-bhp and 350 lb-ft of torque. Power is routed through an uprated 4-speed automatic, while big brakes from the SL series provide stopping services. All that's wrapped in unique bodywork that includes fat fender flares and aero-aids at the nose and rockers, and the whole ball of wax translates into six second zero to 100km/h runs and a sweet V8 exhaust note. Also, the cars are muy macho.
This one - in silver over black - looks to be in exemplary condition. There don't seem to be any major flaws in the body, and it has all its plastic trim. On the inside the dash and wood all look almost showroom fresh. Likewise, the four Recaro buckets look to be in fine shape, with only some wrinkling in the driver's squab to show the age and miles.
Speaking of miles, well, this 500E has more miles than a '60s jazz festival. In fact, it's pretty amazing to see the car in this apparent shape with fully 132,000 on the clock. That' s not a lot by modern standards, but keep in mind that this is a '90s German car which means everything has been over-engineered to begin with, and is hence potentially overly complicated to repair when something goes south. That may or may not come into play when considering this particular car's $17,000 asking price, which I am asking you to do now.
What do you think about this Porsche/Benz and its seventeen grand asking? Is that a price that should have new owners muscling in on this muscle car? Or, is that too high a price for even the highest performance W124?
You decide!
Chicago Craigslist, or go here if the ad disappears.
H/T to CHICAGO635CSI for the hookup!
Help me out with NPOCP. Click here to send a me a fixed-price tip, and remember to include your Kinja handle.