Polestar is not a name you generally want to see associated with your mom, but you do when it comes to your Volvos. Today's Nice Price or Crack Pipe C30 is just so imbued, but will its price make it worth the dance?
Choices. We all make them. Sometimes we regret having done so. Other times those around us let us know that perhaps we've elected in error. When it came to yesterday's 1998 Lincoln Mark VIII, many of you questioned certain of the choices its seller made. Among those were the under-hood lettering, the use of A-pillar gauges (why don't all cars have these?), and perhaps most egregious of all, his pricing acumen. That last choice fell in a 64 percent Crack Pipe loss. Now I suggest we choose to move on.
What is it that we love about Volvos? Is it the boxy nature of their older models? The company's own lustful embrace of the turbos? Maybe it's the fact that, along with their money-earning crossovers, they still refuse to give up on wagons.
Whatever the reason, the image Volvo has engendered is the automotive equivalent of the quintessential girl/boy next door—solid, dependable, good-looking, and worth a romp when you finally discover just how fun they can be.
G/O Media may get a commission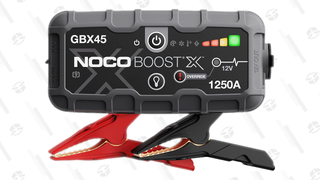 13% Off
Noco Boost X GBX75 Jump Starter
One Volvo that never really seemed to get neighborly was the C30. That's really too bad considering its provenance. The C30 was based on the Volvo P1 platform which was a renamed version of Ford's global C1 platform. That came from the era of Volvo being one of Ford's seven kingdoms: Lincoln, Volvo, Jaguar, Land Rover, Aston Martin, Mercury, and a bit of Mazda, and the C1 underpinned various small Fords as well as Mazdas.
The C30 also featured retro-mod styling that evoked one of Volvo's most beloved models, the P1800ES. It even came in a Polestar performance model, and that's just what we have here today. Let's see if there's any love for it.
This 2013 Volvo C30 R-Design Polestar represents the model's top trim level and ultimate expression of performance from the little three-door. Yep, its hot and and it's a hatch. How hot is it? Well, that 2.5-litre inline five under the hood pumps out 250 horsepower and 273 lb-ft of torque in its Polestar guise. That's guided to the front wheels here via a six speed transaxle. Now, many drivers have noted that the driveline is not the most composed out there—offering up gobs of curb attacking torque-steer and a shifter that sadly, is like stirring rocky road.
If you're a Volvo nut then neither of those issues will likely be insurmountable in overcoming your ardor for the car. The rest of the car looks pretty sweet too, which will just bouy your Volvo nuttiness.
It comes in Cosmic White over a black with leather seating surfaces and a nice fat-rimmed R-Design steering wheel. There's little sign of wear or its partner tear in this two-owner car, either in that cabin or on the body. The seller says it comes with new BFG tires and that the car has 62K on the clock. The stated reason for the sale is that since moving to Portland the seller's family has realized they don't need two cars and so the Volvo has gotten the shitty end of Sophie's Choice.
When new—which wasn't all that long ago—these cars ran about $35K and change. This one has been dropping slowly, starting at $19,500 and then down to $18,500 without apparently much in the way of buyer interest. As we noted, the C30 was not one of Volvo's more popular models when new, and that reputation seems to have carried through to its life on the used car market.
Still, there's a lot to like here, especially if you're a fan of closely clustered, inscrutably picto-graphed center console buttons, which the C30 has in spades. You're more likely a fan of those 250 ponies, and now that the car is priced at $17,000, we'll need to see if those are enough to help it pull out a win. What do you think, is this C30 Polestar worth that $17,000 asking? Or, is this a hot hatch with a not so hot price?
You decide!

Portland, OR Craigslist, or go here if the ad disappears.
H/T to highwindadvisory for the hookup!
Help me out with NPOCP. Click here to send a me a fixed-price tip, and remember to include your Kinja handle.