So few Pontiac Fieros still wear their factory panels you'd think people shamed them by calling them ugly and saying their mother dresses them funny. Today's Nice Price or Crack Pipe '87 limits its changes to under the skirts, but will its price make it dressed to kill?
Let's be frank, the Fiero rarely gets the respect it so richly deserves. Okay, let's stop being frank because he also gets dissed a lot and it's starting to harsh my mellow. Still, while we had had lots of Fieros (Fieri? Guy Fieri? Lou Ferrigno?) on the show in the past, for the most part they have either been disguised to look like something else - as though attempting to elude the law - or have been total crapwagons, which I think we can all agree are the worst kind of wagons.
That's not the case with today's 1987 Fiero GT, as it not only proudly wears its factory duds, but a set of rare t-tops from the very same factory as well. In fact, the only apparent significant change from stock on this 5-speed equipped car is the removal of whatever engine originally powered it. Its replacement is an SBC.
Okay, I know what you're thinking- yawn, not another SBC conversion, that's sooooooooooo boring. Well, to the haters I retort: the small block Chevy offers one of the most cost-efficient mechanisms to making just about anything - from this Fiero to your lilac-smelling granny - go balls-clackin' faster. And after all the heart transplant cars we've done here, I think the only replacement under-hood that might surprise and delight you guys would be the Lucky Charms Leprechaun.
G/O Media may get a commission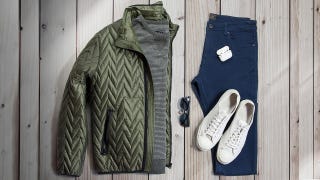 60% off
Jachs NY Fall Sale 60% Off
Here, that SBC is FI'd and sits with the intake buried under the passenger side engine vent. That's bolted to the aforementioned Getrag 5-speed through a SPEC Stage 3+ clutch and pumps out its waste through a quad tipped exhaust. The whole shebang looks reasonably clean with no rogue wire looms cluttering up the engine bay, or obvious signs of dumbfuckery in the install.
Sadly this is an '87 and not the re-suspended '88, but at least the car has some aftermarket suspension bits to improve the handling and overcome the added weight of the big eight. The ad notes the addition of coil-overs, an added rear sway bar, and a strut tower brace to help keep things in line. Kudos go to whomever chose the wheels as well, as they are pretty nice looking and seem appropriately sized.
Inside, the car looks pretty sweet as well, especially if you heart the '80s. The dash and interior panels are all clean and seem unblemished, while the Mr. Mike leather on the seats looks totally bitchin. Just to give you an idea of how thorough the conversion on this car was, all the instruments have been calibrated for the new mill.
To demonstrate just where the enthusiasm dropped off, there is the incomplete A/C (sorry Arizonians, you'll just have to sit this one out) and the lack of a spare tire which means you'll need to add the cost of a Triple A card to the car's cost.
Both of those items are more or less repairable, and this custom-engine'd Fiero is such an awesome car as it is, that at least adding in some sort of cooling functionality - a bag of ice cubes held in your lap? - might make it, dare I say almost perfect.
But does it come with a perfect price? No miles are given on the car, but in the pictures at least whatever total they may be, those seem to have been kind to it. A number that is included in the ad is $11,900, which is what it would take to relieve this car from its present owner.
A Benjamin shy of twelve large is a lot of cheddar for a Fiero, and that's a fact. But there's also verity in this car being one of the nicest - and V8-iest - Fieros I've ever seen. But, is it worth its asking?
You decide!
Rapid City Craigslist (Rapid City, get it?), or go here if the ad disappears.
H/T to Jeff for the Hookup!
Help me out with NPOCP. Click here to send a me a fixed-price tip, and remember to include your commenter handle.