With 496 cubic inches on tap today's Nice Price or Crack Pipe Avalanche brings to the party some pretty big bores. You'll need to decide if this plastic-cladded transformer's price is a deal or just makes it a big bore.
You know it's not just VH-1 that hearts the '80s. Wait, is VH-1 still a thing? Well if it isn't then last Friday's 1984 Isuzu Impulse certainly was. Not only that, but it brought back the hits to the tune of a 60% Nice Price win.
Maybe the '80s aren't your cup of tea, and perhaps you need a ride in your life that offers both the torque of the gods, and something called a midgate giving you the freedom to choose between pickup and come-on-inside pickup whenever you wanted.
Today's 2002 Chevrolet Avalanche 2500 gives you both of those features in one vehicle, wrapped not with a bow, but with a metric shit-ton of plastic cladding. Actually I don't know how much all that plastic weighs, but I do know that the whole Avalanche tips the scales at a two-eyebrow raising 6,650 pounds. That's more than your mama. Oh hai, here's another good yo mama's so fat joke: Yo mama's so fat when she accidentally butt dials someone, it's always long distance. Hey-oh!
G/O Media may get a commission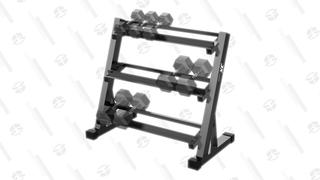 20% Off
JX Fitness Dumbbell Rack
Gains but tidy
Has a three-tier design to help store more weights more conveniently, can safely support up to 1000lbs of weight, which should be enough for most people, has a triangle base for stability, and also features anti-scratch feet which is great if you've built your own studio or workout in your garage.
Back to the Chevy. The Avalanche is one of the weirdest rides out there. That midgate feature lets you open up the back to the bed in case you need to carry some really long cargo. All other times it just let you drive around, content in the knowledge that you could transport really long cargo if needed. It's the simple things in life.
Based on the GMT800 truck platform, which also served as the starting point for the Hummer H2 and SUT, the first-gen Avalanche filled a niche that no one on the planet ever knew existed. It was like Chevy had discovered a hitherto unknown Dead Sea Scroll that described a beast - neither pickup nor SUV but sharing the least functional aspects of each - and then decided to make it their own.
It wasn't long however before Cadillac got all pissy and demanded a Escalade version, while GMC got an even odder - and Studebaker Wagonaire-ier - Envoy XUV wagon. Those lacked the plastic siding that was so emblematic on the Chevy, and the GMC was a size smaller too.
There's nothing small about this Avalanche. Not only is it over three tons of fun, but it clocks in at over 18 feet long and better than 6 feet wide. For those of you outside the U.S. that's better than 5 meters by 2 meters and yes, we drive massive iron like this over here. The U.S. is a damn big place and we like to travel in comfort. That's why everybody is trying to come here, to drive trucks like this.
Actually driving the truck - meaning making it mobile - is an 8.1 litre (496 cubic inch displacement) all-iron L18 V8. That massive mill pumps out 340-bhp in this application, as well as 455 lb-ft of torque. And the best part? It does all that on 87 octane.
Behind Big Bertha is a 4-speed automatic and the truck comes with part-time 4-wheel drive activated by a dash-mounted push button, easy peasy. The truck sports an independent front suspension and semi-elliptic springs connected to a live axle in the back.
This one has new brake rotors and pads, as well as new tires, shocks and at least one universal joint. It's also on at least its second fuel pump because the ad notes that to be fresh as well. he bodywork looks in the pics to be in okay shape for its 13 years and 165,000 miles.
Sure the plastic cladding has greyed like last month's lunch meat but it's all intact and lacks any scrapes or scratches. The chrome 16-inchers have more big lugs than a '50s football movie but likewise seem in good shape. Trailer mirrors have been added and stick out farther than Obama's ears.
The interior is cloth rather than leather, and that's a surface that seems to hold up better over time. What hasn't held up all that well is the GMT800 dashboard styling which is a mess of fiddly seams, poor-feel buttons, and grey sadness. Oh well, you can't win 'em all.
The seller is trying to win $11,200 for this massive-motor rocking weird-ass Chevy and it's now time for you all to vote on how like,y that win might be. What do you say to this big block plastic fantastic truck and its $11,200 price? Is that an amount that should have buyers pourin' like an avalanche comin' down the mountain?
You decide!
Columbus OH Craigslist, or go here if the ad disappears.
H/T to Will T for the hookup!
Help me out with NPOCP. Click here to send a me a fixed-price tip, and remember to include your Kinja handle.