Common in parts of England and the East Coast of North America, polydactyl cats have more than the usual number of toes. Today's Nice Price or Crack Pipe Jag XJ-S is an English cat with more than the usual number of cylinders, but will its price have you tip-toeing away?
Mixing up German and American Icons VW and Jeep is like serving your sauerbraten with PBR, and yesterday's reconstructed title Veep proved equally unappetizing, belching up a 76% Crack Pipe loss for its three grand price tag. Auf wiedersehen meine liebe.
Jaguar ended production of the E-Type in 1974, and the following year introduced the XJ-S. Many consider the later car to be the titular successor to the XKE, but that wasn't Jaguar's intention, a fact noted in the use of the XJ naming convention as opposed to XK. The J represented the relationship to Jag's XJ sedan, and in fact the new S was based on the saloon's platform.
G/O Media may get a commission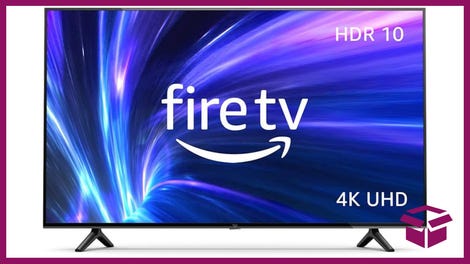 42% Off
Amazon Fire TV 50" 4K Smart TV
It's well known that prior to his retirement Sir William Lyons had the final say over the styling of all of Jaguar's cars. What's less well known is that he also valued the opinion of Greta, his wife, and had prototypes shipped to their home for her to review. The XJ-S was the first Jag not so delivered to their estate at Wappenbury Hall, and perhaps that's part of the reason it looked like nothing the marque had previously produced.
That's not to say the car completely lacked provenance. The flying buttresses were a styling element taken from the stillborn mid-engine car which would have served as a showcase for the company's new V12 engine. And, while seemingly blockier than the precedent E, the new grand touring coupe touted a more efficient coefficient of drag continuing the company's tradition of aerodynamic shapes.
Being slipperier did little to quench the thirst of the big 12 under the coupe's massive hood. Weighing in at 5,343-ccs and a stout 262-bhp, Jag's V12 engine has been feted as magnificent by no less than LJK Setright. Here in this 1987 XJ-S that engine employs the May Fireball combustion chamber which improved fuel consumption by a claimed 20%. You're still going to be getting MPG in the teens, but at least while doing so you'll get somewhere around seven and a half tics zero to sixty and an engine smoother than a snail gliding on melted butter across the surface of Palomar observatory's 200-inch mirror. The gearbox, as on all U.S. spec twelve cylinder XJ-S models, is a GM 3-speed automatic.
Of course that's if this big cat still purrs. The ad is as light on description as the black over Ron Burgundy car is heavy on fallen pine needles. It does say that car runs good, sports 100k on its clock, and comes with current tags, all pluses in my book. Also there don't appear to be any major body boogers under that coat of conifer dander, and the badging and trim pieces seem to be intact. The limited interior shots show the claustrophobic confines of the rear compartment to still be serviceable, a plus if your Lover's Lane escapades involve romping with midgets.
Why the sale? Well, the ad says that it's the typical wife wants it gone story. How ironic that no new Jag could be sold until Sir William's wife approved of it, and now this old cat has to go because the current owner's wife does not approve. You've come a long way, baby.
If you click through the pictures in the Craigslist ad to the seller's Photobucket page you'll see that he appears to have a bunch of other cars that he has sold or is in the process of selling. In fact, so many that it seems like that may be his avocation. In that case, one wonders what the history of this Jag might hold. Whatever that may be, it'll cost $1,950 for you to add a little V12 classiness to your future.
The question, as is always the case once we get down here, is whether or not that's a good deal. The opportunity to get a running, seemingly complete and functional V12 luxury coupe for the cost of decent flat screen seems like either the greatest deal known to man, or the world's deepest money pit. What do you think, is just shy of two grand a price that makes this Jag a pussy cat? Or, would buying it be more of a bear?
You decide!
Seattle Craigslist or go here if the wife has her way.
Help me out with NPOCP. Click here to send a me a fixed-price tip, and remember to include your commenter handle.